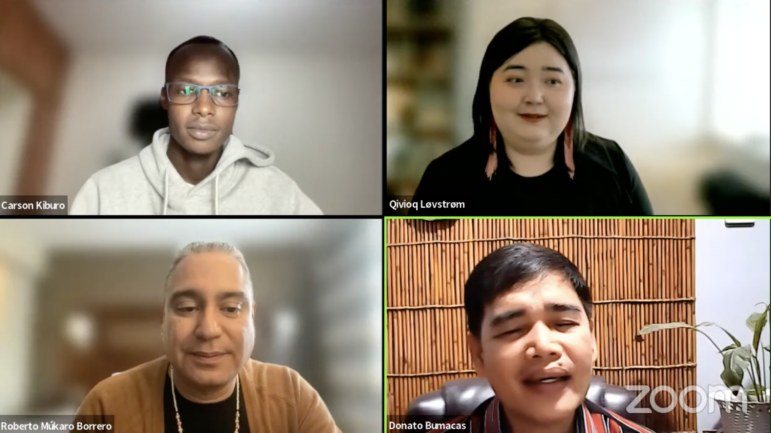 Indigenous Leaders Explore Spiritualities, Colonization and the Environment at CEE Forum
On Tuesday, April 25, Kenyan community organizer and youth leader Carson Kiburo, Greenland anthropologist-activist Qivioq Løvstrøm, and Philippine Indigenous advocate Donato Bumacas explored how traditional Indigenous beliefs relate to ecologically sound cultural practices and discussed the challenges facing Indigenous beliefs and life systems. Kasike R. Múkaro Borrero (Guainía Taíno Tribe) moderated.
Radical Realism about our Planetary Plight

On April 24,  Christian environmental ethicist Larry Rasmussen visited  Union to discuss his new book. "The Planet You Inherit".
World Bank Roadmap Fails to Address Fossil Fuels

Research Associate Alyssa Ng's policy note examines the World Bank's failure to confront its history of fossil fuel financing.
Read More
Biodiversity Brief
From left: Alyssa Ng, Karenna Gore, Andrew Schwartz, Husna Ahmad and Saif Ahmad at the United Nations Biodiversity Conference, Montreal, December 2022.
International Day for Biological Diversity, celebrated this week, is a good time to look back at  some of CEE's work to understand challenges and to lift up biodiversity and ecosystem restoration efforts around the world.
United Nations Multi-faith Advisory Council
In April, CEE Executive Director Karenna Gore (far left), Research Associate Alyssa Ng (center row, second in from right) and Senior Advisor Gopal Patel (seated, far right) participated in the United Nations Multi-faith Advisory Council's two-day annual meeting at UN headquarters in New York. Patel, the co-founder and  director of Bhumi Global, has co-chaired the Council since 2019.
Upcoming Events
Thursday, May 25. NY Renews: Climate, Jobs, and Justice Day of Action. Eight locations across New York State.
Tuesday, June 6. Clinical Climate Change 2023: Clinical Care for Workers in the Climate Crisis. Icahn School of Medicine, Mt. Sinai, New York.
Tuesday, June 6. The Right to a Healthy Environment: Looking Ahead.  Episcopal Church Center, New York.
Thursday, June 8. People vs. Fossil Fuels: Biden, #StopMVP Now!. 1600 Pennsylvania Avenue NW, Washington, D.C.
Friday, June 9. Resilience and Resolve: A Climate Justice Training for New York City Faith Communities. Union Theological Seminary, New York.
Monday-Friday, August 14-18. Parliament of the World's Religions. Chicago, Illinois.
From our friends
Biden, #StopMVP Now!

Thursday, June 8 | 2 p.m.

Join People vs. Fossil Fuels in front of the White House on Thursday, June 8, to demand that President Biden stop the Mountain Valley Pipeline. Learn More