Wisdom + Sustainable Development with Jeffrey Sachs and B.T. Bhikkhu
December 6, 2018 at 1:00 pm

to

2:00 pm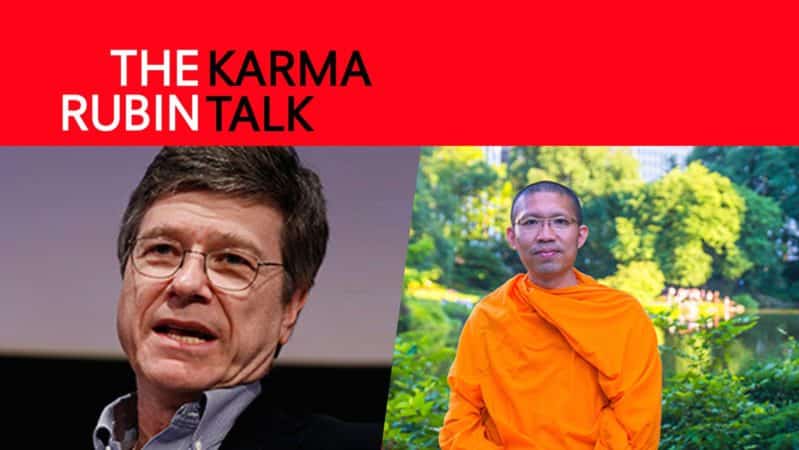 World-renowned professor of economics and leader in sustainable development Jeffrey Sachs sits down with B.T. Bhikkhu, buddhist monk and Executive Director of The Middle Way Meditation Institute, to discuss how wisdom traditions can help us better achieve integral and sustainable development on our planet.
About the Speakers

Venerable Burin Thitakusalo (B.T. Bhikkhu) is the Executive Director of The Middle Way Meditation Institute, a New York-based global nonprofit organization that focuses on the promotion of inner peace education as a means to attaining world peace. Ordained as a Buddhist monk in Thailand since 2000, his quest is to bridge Eastern wisdom and Western science to serve humanity. Through his "World Peace through Inner Peace" project, he has touched people from all walks of life. He also travels globally to teach thousands of meditators from 30 countries on 6 continents.

Jeffrey D. Sachs is a world-renowned professor of economics, leader in sustainable development, senior UN advisor, bestselling author, and syndicated columnist whose monthly newspaper columns appear in more than 100 countries. He is the co-recipient of the 2015 Blue Planet Prize, the leading global prize for environmental leadership. He has twice been named among Time magazine's 100 most influential world leaders. He was called by The New York Times, "probably the most important economist in the world," and by Time magazine "the world's best known economist." A recent survey by The Economist ranked Professor Sachs as among the world's three most influential living economists of the past decade.