UN Religious Advisory Council of the Inter-Agency Task Force on Religion UN High-Level Political Forum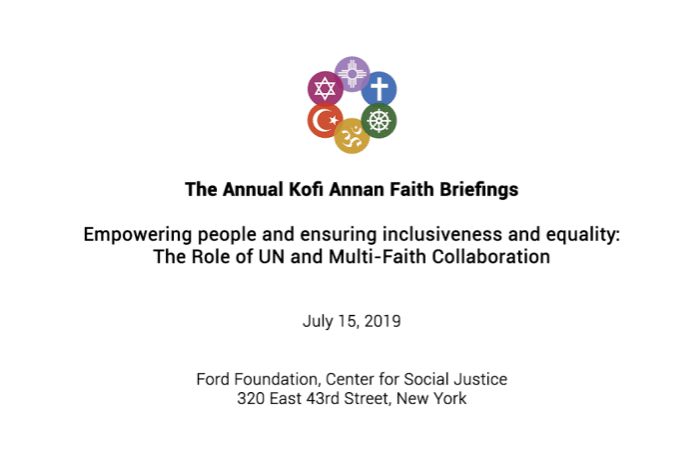 Empowering people and ensuring inclusiveness and equality: The Role of UN and Multi Faith Collaboration: July 15, 2019
"The 2030 Agenda is our roadmap and its goals and targets are tools to get there." – United Nations Secretary-General, Mr. António Guterres
The UN Interagency Task Force involves 20 UN system entities, each participating at different levels of intensity within the Task Force. The one thing these otherwise very diverse UN offices shares is their engagement with religious actors, and/or their awareness, and action, around religious intersections with their respective organizational strategic objectives. Since 2010, the UN Interagency Task Force Members have been convening policy roundtables, workshops, seminars, and joint initiatives around key UN intergovernmental fora (CSW, CPD, HLPF, and UNGA), around religion and religious engagement, and several reports, policy outcomes and initiatives are produced as a result of these consultations.
Center for Earth Ethics Director, Karenna Gore will be participating in an interactive panel at the High Level Political Forum. Union Theological Seminary, home to the Center for Earth Ethics, now has Economic and Social Council (ECOSOC) status at the UN. 
THE HIGH-LEVEL POLITICAL FORUM 2019 UNDER THE AUSPICES OF ECOSOC
The meeting of the high-level political forum on sustainable development in 2019 convened under the auspices of the Economic and Social Council, will be held from Tuesday, 9 July, to Thursday, 18 July 2019; including the three-day ministerial meeting of the forum from Tuesday, 16 July, to Thursday, 18 July 2019.
The theme will be "Empowering people and ensuring inclusiveness and equality". The set of goals to be reviewed in depth is the following:
• Goal 4. Ensure inclusive and equitable quality education and promote lifelong learning opportunities for all
• Goal 8. Promote sustained, inclusive and sustainable economic growth, full and productive employment and decent work for all
• Goal 10. Reduce inequality within and among countries
• Goal 13. Take urgent action to combat climate change and its impacts
• Goal 16. Promote peaceful and inclusive societies for sustainable development, provide access to justice for all and build effective, accountable and inclusive institutions at all levels
• Goal 17. Strengthen the means of implementation and revitalize the global partnership for sustainable development For more information on Thematic SDG Reviews, click here.
http://www.un.org/en/genocideprevention/documents/Plan%20of%20Action%20Advanced%20C
The purpose of the Kofi Annan Faith Briefings is:
1. To provide a dedicated and 'regular' space, during a key intergovernmental moment (in this case the HLPF) capitalizing on the unique constellation of geopolitical and socio-cultural human capital, well-versed in religion and religiously related affairs, which is capable of informing, and being informed by, UN system deliberations.
2. To uphold the importance of strategic partnerships by the UN system with faith- based and faith-inspired civil society actors, around the world for specific SDGs;
3. To present and assess the diverse range of partnerships between different faith entities and between them and the UN and its member states, as a means to realising the SDG goals;
4. To thereby showcase the multi-faith civic support for multilateralism which is dedicated to the service of human rights, sustainable development and peace and security.
Briefings on July 15 will be "Empowering people and ensuring inclusiveness and equality: The Role of UN and Multi Faith Collaboration".