Rally for Our Water, Stop MVP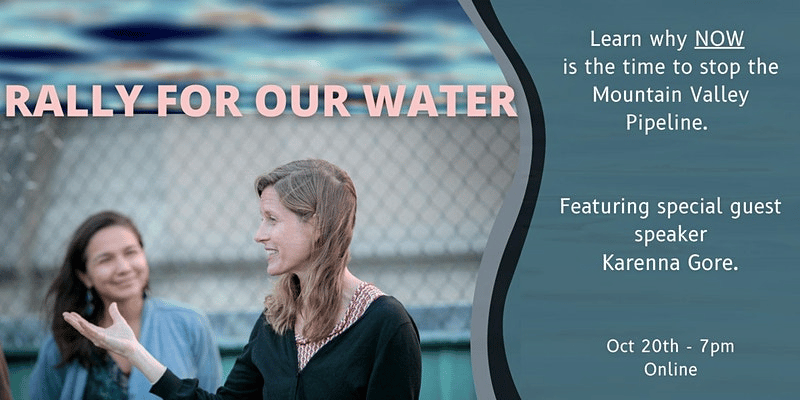 Rally for Our Water
Wednesday, October 20, 2021
4 p.m. Los Angeles | 6 p.m. Chicago | 7 p.m. Washington, D.C.
Join your friends, neighbors, and allies from Virginia and beyond to show our solidarity and boost our energy to continue to victory!
This is an urgent moment in the fight against the Mountain Valley Pipeline. The enthusiasm and dedication of activists, citizens, and nonprofits helped to stop the Atlantic Coast Pipeline, a project many said was a done deal. Now we need all of our allies and fighters now, more than ever, to stop the MVP.
Join us on Wednesday, Oct 20, to learn how you can help and why now is the time to raise your voice.
Wild Virginia will host a webinar with information about the opportunity for the public to affect the decision by the Virginia State Water Control Board about the MVP'S future.
Our featured speaker will be Karenna Gore, the founder and executive director of the Center for Earth Ethics at Union Theological Seminary.
While the direct focus of this rally is on the pipeline, the issues involved are much larger.
Anyone who is motivated to oppose wasteful and harmful fossil fuel infrastructure that will cause damage in the short term and prolong our urgent transition to clean energy — this is your fight.
Anyone who wants to ensure decision makers meet their legal and ethical duties to protect us and our resources — this is your fight.
The MVP battle has become a national focal point in the vital effort to achieve justice and sound policies on water pollution and energy choices.