March for Climate Justice Through Racial Justice
September 20, 2020 at 1:00 pm

to

3:00 pm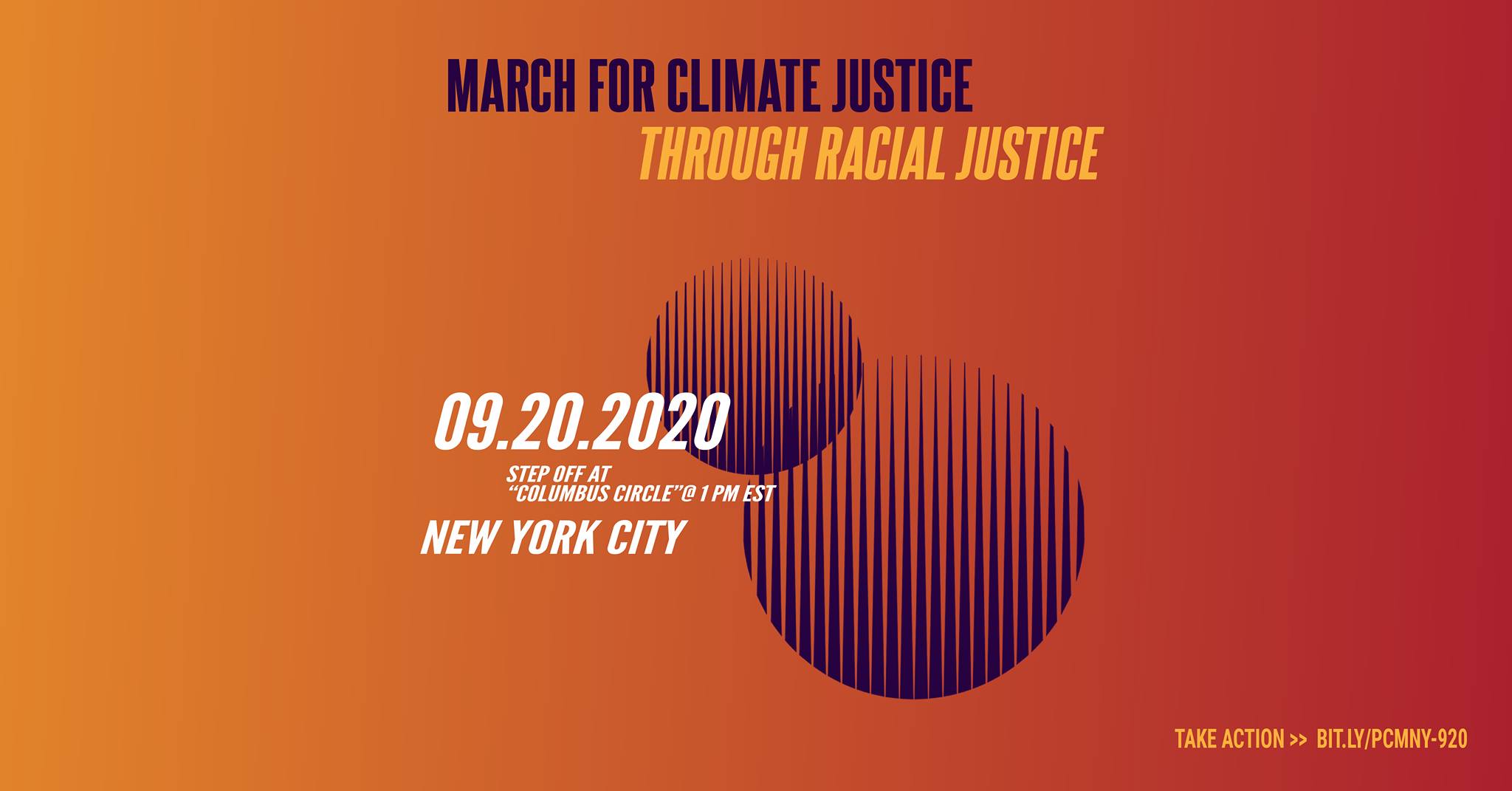 On Sept. 20th, we are marching because we know that addressing the climate crisis effectively rests in our commitment to racial justice. This isn't the first march calling for climate justice and racial justice, and it won't be the last. The march will kick off and set a tone for Climate Week by prioritizing Black, Brown, and Indigenous peoples, making clear the intersection between climate justice and racial justice.
More info about the march can be found here:
https://bit.ly/pcmny-920.
We cannot achieve climate justice without racial justice. Make plans now to march with us on Sept. 20!
If you can, please make a donation to help make it possible to provide face masks and hand sanitizer, to purchase materials needed for art builds, and to help cover the other costs related to this effort. Your contribution is appreciated! https://actionnetwork.org/fundraising/nyc-climate-week-actions-commitment-to-racial-justice
At this event, *masks will be required, and social distancing will be encouraged.* Thank you.
Co-sponsors (as of 9/9):
Peace Action of Staten Island
350Brooklyn
350NYC
Atlantic Climate Justice Alliance
Bronx Climate Justice North
Bronx Green Party
Brooklyn For Peace
Divest NY
Earth Day Initiative
Environmental Justice Initiative / NY En. Law & Justice Project
Extinction Rebellion
Extinction Rebellion NYC
Food & Water Action
Granny Peace Brigade, NYC
Green Party of Brooklyn
Indivisible Harlem
Indivisible Nation Bk
MADRE
National Lawyers Guild – Environmental Justice Committee
North American Climate, Conservation and Environment (NACCE)
North American Megadam Resistance Alliance
North Bronx Racial Justice
NY Buddhist Climate Action Network
NY Communities for Change
NYC War Resisters League
NYC World Can't Wait
Peace Action New York State
Peoples Climate Movemen-NY
PSC, Environmental Justice Working Group
Queens Climate Project
Raging Grannies NYC
Rise and Resist
SEMILLA WARUNKWA & ProtectTheSacredNYC
Shut Down Indian Point Now
Sixth Street Community Center
St. Stephen's United Methodist Church
Sustainable Staten Island
Take Down Columbus NYC
VOCAL-NY
WE ACT
World Can't Wait
Zero Hour NYC