William Barber, III and CEE Director Karenna Gore to Co-Moderate Panel at 2019 Virginia Climate Crisis Forum
September 17, 2019 at 7:00 pm

to

10:00 pm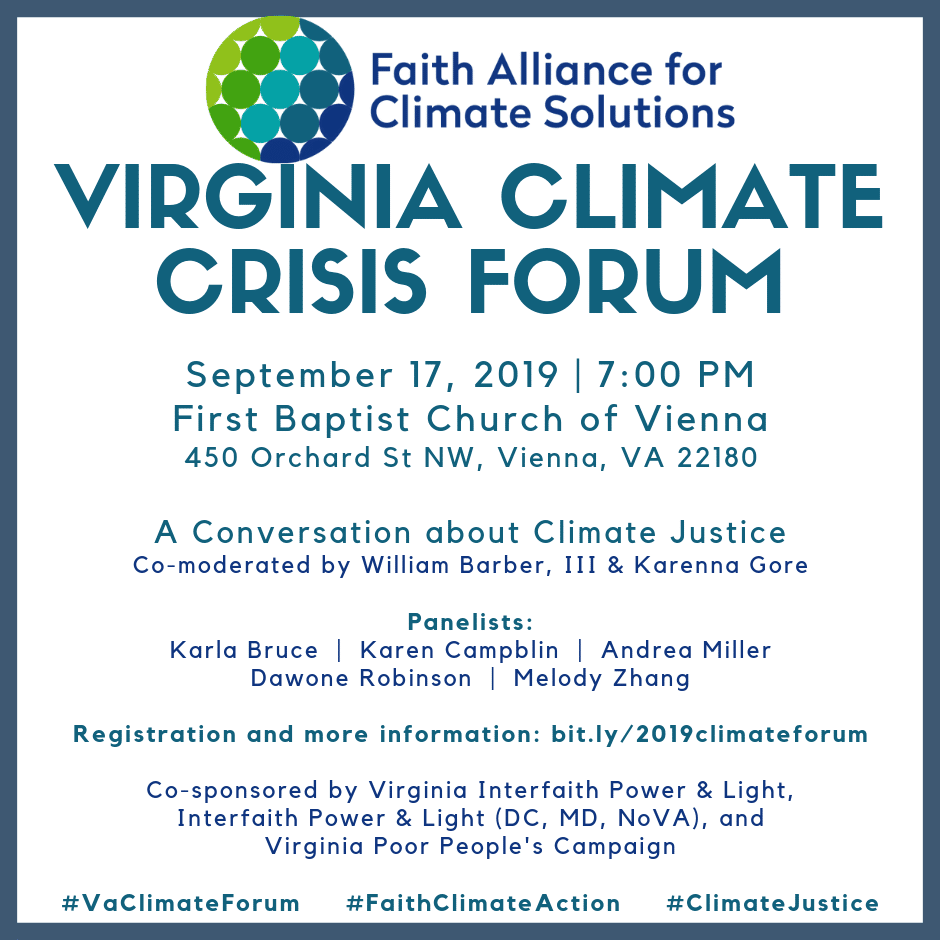 Hosted by Faith Alliance for Climate Solutions (FACS) Co-sponsored by Virginia Interfaith Power & Light, Interfaith Power & Light (DC, MD, NoVA), and the Virginia Poor People's Campaign 
Co-moderated by: William Barber, III & CEE Director, Karenna Gore 
Panelists:
Karla Bruce, Chief Equity Officer of Fairfax County
Karen Campblin, Co-chair of Green New Deal VA and Transportation and Smart Growth Co-chair of the Virginia Chapter of the Sierra Club
Andrea Miller, Virginia Poor People's Campaign and Executive Director of People Demanding Action
Dawone Robinson, Northeast/Mid-Atlantic Director of Energy Affordability for the Natural Resources Defense Council
Melody Zhang, Climate Justice Campaign Coordinator at Sojourners and Co-Chair of Young Evangelicals for Climate Action 
Join us in coming together with people of faith and community members across Virginia to engage in a deep conversation about environmental justice. We will explore topics ranging from the landscape of environmental justice issues in Virginia and what that encompasses, the intersection with faith, energy justice, and Fairfax County's approach to equity. In addition, we will hear from people directly impacted by climate justice issues. Our guests will engage attendees in a conversation about how we can respond as a faith community to better care for Creation through a commitment to local solutions to environmental justice. 
The climate crisis makes our sacred responsibility to address environmental injustice even more urgent. As we work together to repair our damaged climate, we must make sure that everyone most impacted — including low-income people, people of color, the vulnerable, and those on the frontlines — are part of every solution. 
About the forum's moderators:
William Barber, III, is the Strategic Partnerships Associate at The Climate Reality Project. He is the son of Rev. Dr. William Barber, II. Karenna Gore is the founding director of the Center for Earth Ethics at Union Theological Seminary. She is the eldest daughter of former Vice President Al Gore. 
The 2019 Virginia Climate Crisis Forum is open to the public and free of charge. Space is limited, registration is suggested, http://bit.ly/2019climateforum. Watch for announcements this week including the address and additional panelists! Doors open at 7 PM, and the program starts at 7:30 PM. 
Representing more than 70 congregations in the Northern Virginia area, FACS advocates for equitable climate policies in Northern Virginia and in the Commonwealth. We empower and unite neighbors of all faiths to develop local solutions to the climate crisis. FACS is a 501(c)(3) non-partisan organization. For more information, visit faithforclimate.org.  Follow and share this event on facebook.
#VaClimateForum #FaithClimateAction #ClimateJustice