Sacred Work, Local and Global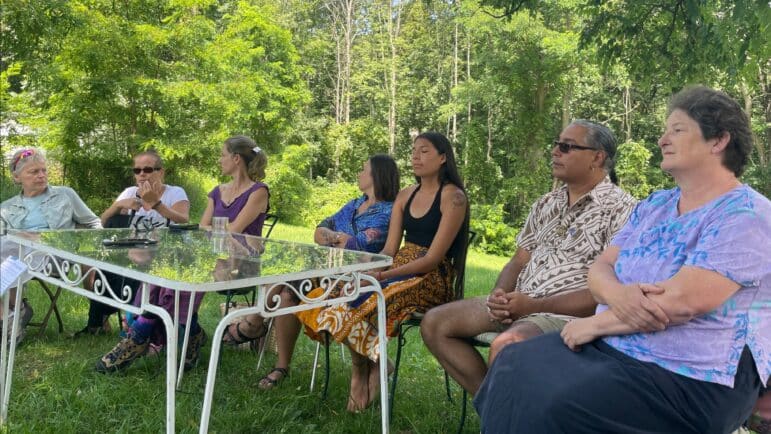 "Regenerating the part of the self that has been lost to colonization and the state of the world moves the human agenda toward valuing harmony between people and the planet." In this reflection, Aja Two Crows recounts a discussion of local and international advocacy for Indigenous peoples and traditional ecological knowledge at July's Waterfall Unity Festival, held at the end of July in upstate New York. 
Read More
The Harvest Through the Weeds
The UN "Stocktaking Moment" in Rome highlighted the dangers of corporate and agribusiness interests' control of food policy, and the need for local, sustainable practices. Read More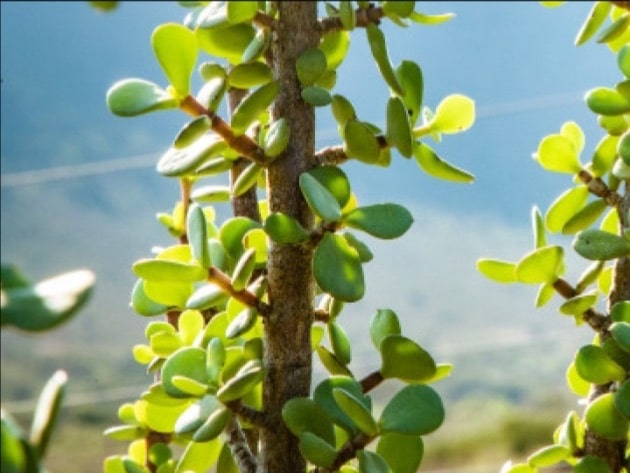 It's not just about ecosystems.
Andrew Schwartz reflects on how ecosystem restoration intertwines with rediscovering the deep inter-connection among values, culture and the Earth. Read More
Parliament of the Worlds Religions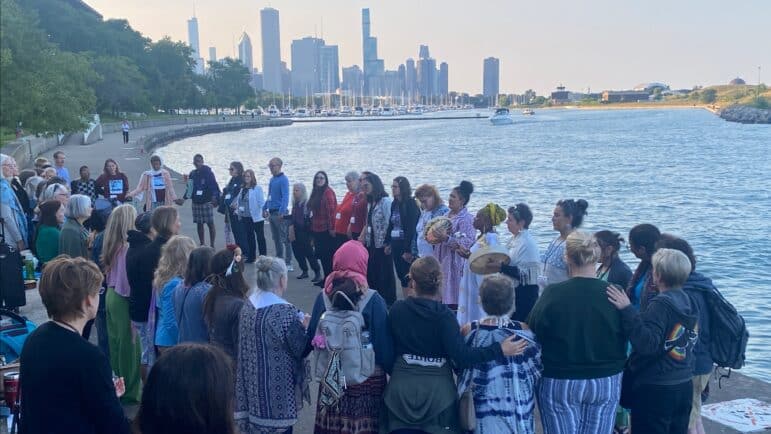 The Parliament of the World's Religions brings together individuals and organizations for one of the largest gathering of the world's religious and spiritual leaders and practitioners. CEE was proud to be part of this year's convening in Chicago earlier this month.
On Thursday, August 17, Executive Director Karenna Gore was a speaker at "Faith-based Divestment from Fossil Fuels," a panel moderated by environmentalist David Hales. Also on Thursday, Project Manager Shannon Michaela Doree Smith, the founder of Women of the Water, spoke at "Sacred Water in a Climate Changed Era," a session that explored the sacredness of water through the lenses of different faith traditions. 
On Friday morning, Ms. Gore addressed the climate action plenary session. "Defending freedom and human rights means taking action on climate now," she said.
CEE Advisory Board members  Jacqueline Patterson, the founder and director of Chisholm Legacy Project, and Dr. Kusumita Pedersen, a trustee of the Parliament, also were panelists at several sessions.
Upcoming Events for Climate Week

On Sunday, September 17th, people of faith and conscience will join the March to End Fossil Fuels in New York City, calling for an end to fossil fuel expansion and extraction. The march will take place ahead of the UN Climate Ambition Summit – a first-of-its-kind meeting hosted by the United Nations Secretary General (UNSG) Antonio Guterres, who has announced that the 'ticket to entry' for world leaders is commitment to ending fossil fuel expansion.  Learn More at www.endfossilfuels.us
Monday, September 18th |
5:30-7 pm | James Chapel


Discussion | Hearing Nature's Voice: Perspectives from Law, Ethics, Business and Science


This panel discussion, organized in collaboration with the Earth Law Center, will offer insights into the transition from anthropocentrism to ecocentrism, and why humans must shift their extractive and destructive dispositions towards Nature if we are to combat global warming and massive environmental degradation.
Panelists will draw from law, ethics, business, and science to explore how using modalities such as rights of nature, rights of future generations and earth ethics, among others, to understand how to help facilitate this transition.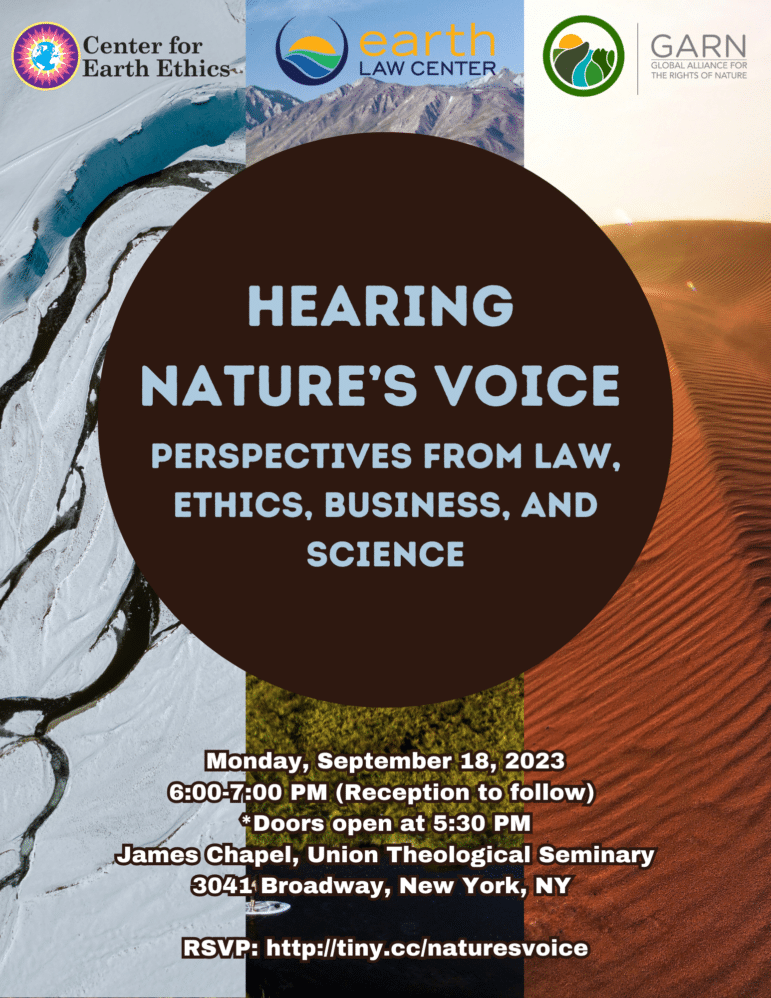 Wednesday, September 13th | 8:30 am | Salvation Army
Fall 2023 Preparedness Summit for NYC Faith Communities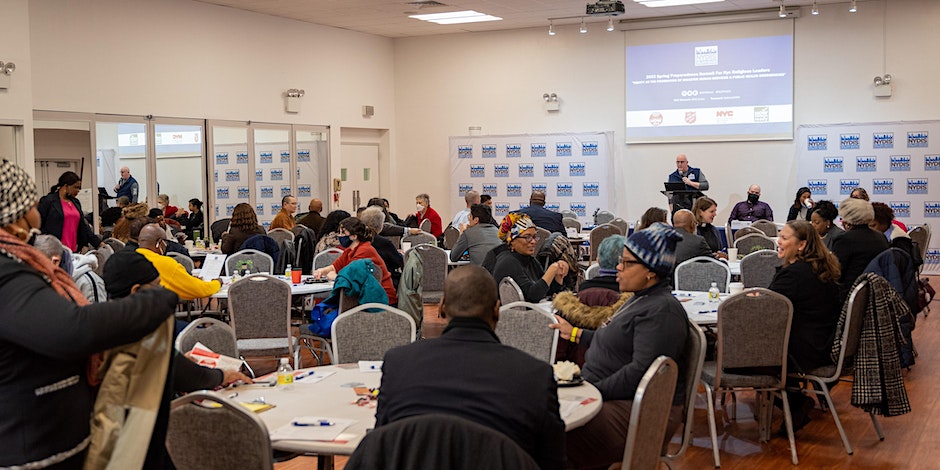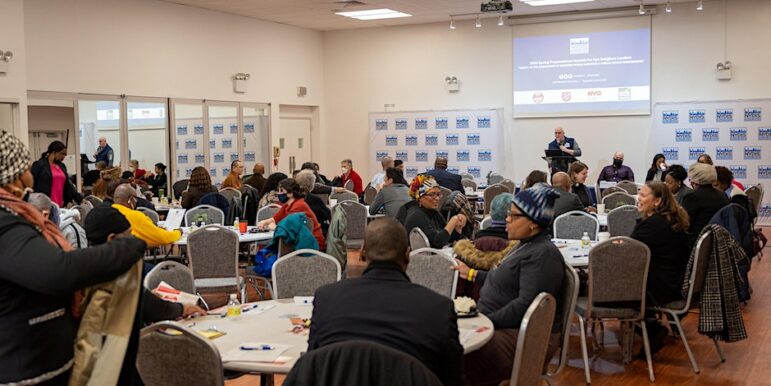 New York Disaster Interfaith Service (NYDIS) will host "Navigating Flood Disasters and Housing Justice: A Preparedness Forum for NYC Religious and Community Leaders" in the lead up to Climate Week and in partnership with NYC Voluntary Organizations Active in Disasters (NYC VOAD) and the NYC Mayor's Office for Faith-based and Community Partnerships. 
Friday, September 22nd |
10 am – 12 pm | James Chapel
Union Theological Seminary  
Global South Summit 2023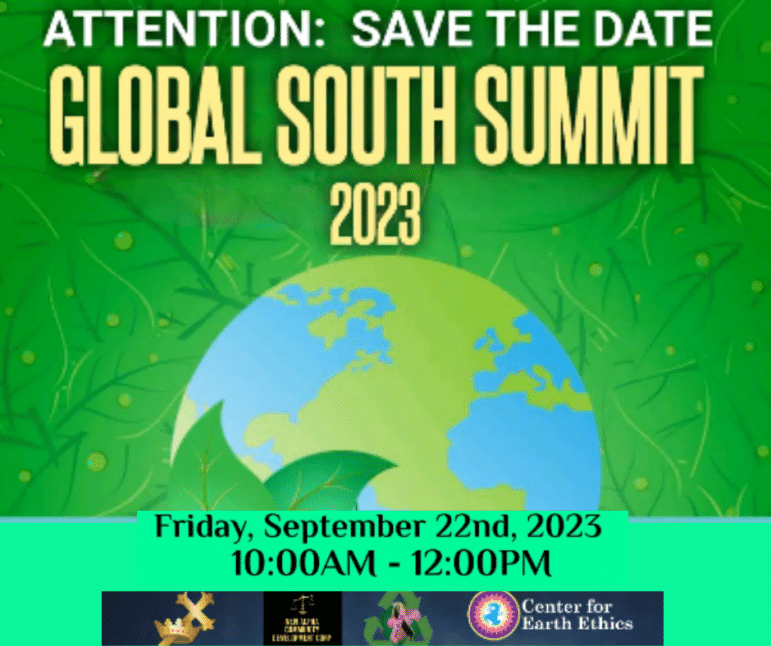 The New Alpha Community Development Corporation and its partner organizations have hosted the Global South Summit since 2017. The summit highlights how some of the major polluters in the southern United States are the same corporations that pollute in developing countries around the world and presents solutions for communities to respond with resilience.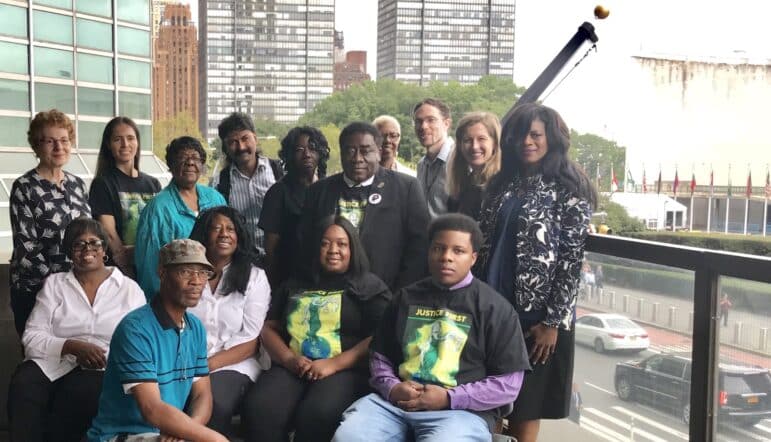 A Festival of Eco-Consciousness Interactive Dreaming for Better Futures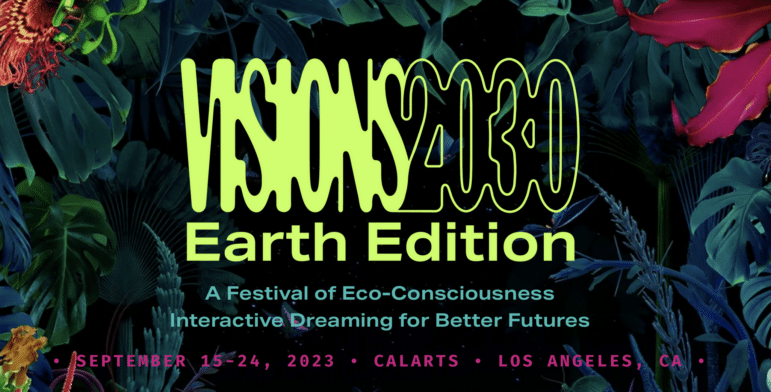 If you're in California check out the Visions2030 Earth Edition Festival at CalArts in Los Angeles. CEE will participate in dialogues on Friday, September 15th and Wednesday, September 20th. 
Full Program at www.eartheditionfestival.la