They Will Inherit the Earth: Peace and Nonviolence in a Time of Climate Change with Author John Dear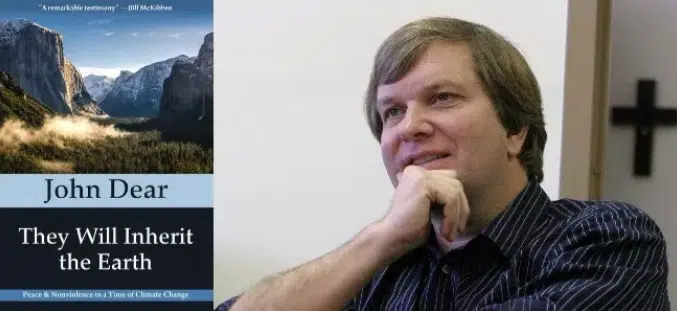 WE REGRET TO ANNOUNCE THIS EVENT HAS BEEN CANCELLED AS UNION THEOLOGICAL SEMINARY IS CLOSED DUE TO WEATHER!  We hope you will be inspired to read John's work and enrich your own practice of nonviolence in the world.
JOHN DEAR BOOK TOUR [NEW YORK CITY]
ORGANIZER: Larry Rasmussen
VENUE: Union Theological Seminary
ADDRESS: 3041 Broadway @121st St
They Will Inherit the Earth: Peace and Nonviolence in a Time of Climate Change, releasing February 2018.
In this landmark work, author, activist, and Nobel peace prize nominee Father John Dear connects the way of active nonviolence with solidarity with Creation, and shows how our global epidemic of violence and war could only lead to catastrophic climate change. He cites Jesus' third Beatitude as the basis for his meditation: "Blessed are the meek, they will inherit the earth." Thomas Merton said "meekness" was the biblical word for "nonviolence" (in the Gandhi/King sense), so Dear reflects how Jesus connected nonviolence with oneness with creation, how he practiced nonviolence and lived at one with creation, and how we need to do the same.
In this time of terrifying climate chaos, John Dear shares his own personal journey from the Upper West Side of Manhattan to the high desert of New Mexico where he now lives off the grid on a remote mesa. He shares his experience serving as a pastor in the mission church at Yosemite; encounters with New Mexican indigenous women who live at one with the earth while resisting nuclear weapons production at Los Alamos; his experience at Standing Rock in North Dakota, resisting the pipeline; reflections on the work of environmental leader Bill McKibben and Pope Francis' monumental encyclical on the environment, Laudato Si; and ends with suggested steps forward into conscious, mindful solidarity with all creatures and Mother Earth through active, steadfast nonviolence, what he calls, "eschatological nonviolence," walking the earth in the footsteps of the nonviolent Jesus into the Kingdom of God.