The Institute for Studies in Eastern Christianity (ISEC) Conference
December 11, 2020 at 9:00 am

to

6:00 pm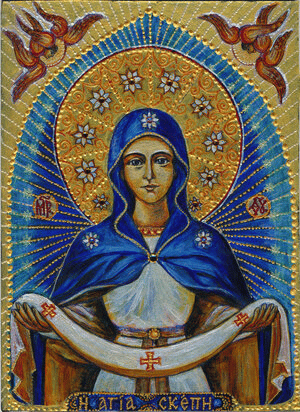 The Institute for Studies in Eastern Christianity (ISEC) of Union Theological Seminary in the City of New York (formerly the Sophia Institute of Eastern Orthodox and Byzantine Studies) is happy to announce the upcoming fall 2020 conference on the theme of
Evil and Spiritual Combat in a Time of Pandemic
The global pandemic has destroyed lives and ravaged society.  It has revealed systemic patterns of inequity, violence and neglect, and has lent urgency to address the ecological damage that intensifies fires, floods, and storms. What happens to Orthodox theology, liturgy and practice in these circumstances?  How does the church respond to natural and human disaster ?  Where do we turn for guidance and how do we serve the people and majesty of God's Creation?
The Conference will take place on Friday, December 11th 2020 via Zoom. Please register if you plan to attend.
We call on scholars, religious leaders and social activists to offer academic papers related to the conference theme. Please email us a short abstract (200 words), email address and mailing address before November 15.
A day-long gathering (9.00 am to 6.00 pm—with registration beginning at 9), will focus on the various ways the Eastern Orthodox Church, over past centuries and in recent times, has theologized on the questions of the meaning, origins and significance of evil in the modern world and on the role of physical and spiritual combat of evil. This conference will thus address the central topics of ethics, spirituality and asceticism.
We believe that this conference topic will be of great interest to scholars, religious leaders and social activists because of its enormous significance for the life of the world and the meaning of life that is faithful to authentic sources of Christian ethics and spirituality.
The conference conveners plan to produce a scholarly volume of papers presented that will continue the ground-breaking approach characteristic of previous conferences.
The Rev. Dr. Conrad Fischer, Chair of ISEC
Center for Earth Ethics Director, Karenna Gore will participate in the
FIRST SHORT PRESENTATION SECTION: 9:30 – 10:45 
THE ASSEMBLY PANEL: SPIRITUALITY AND MYSTICISM IN THE TIME OF PANDEMIC (IN ENGLISH)
Virtual James Chapel
John A. McGuckin, Oxford University, UK
Being Locked up, Locked in, Locked out, and 'Locked and Loaded' in the Time of Pandemic
Clair McPherson, General Theological Seminary, NYC
A Distant Pandemic Mirror: The Great Plague of the 14th Century and the Mystical Response
Karenna Gore, Center for Earth Ethics. Union Theological Seminary. NYC
Social Distancing, Spiritual Connection and the Return to Earth
John Behr. University of Aberdeen, UK
Respondent: Conrad Fischer, Touro College. NYC
MODERATOR: DANIEL BUDA, UNIVERSITY OF SIBIU. ROMANIA