Catherine Flowers joins the One Water Summit for Stories from the Frontlines: Closing the Water Access Gap
September 18, 2019

to

September 20, 2019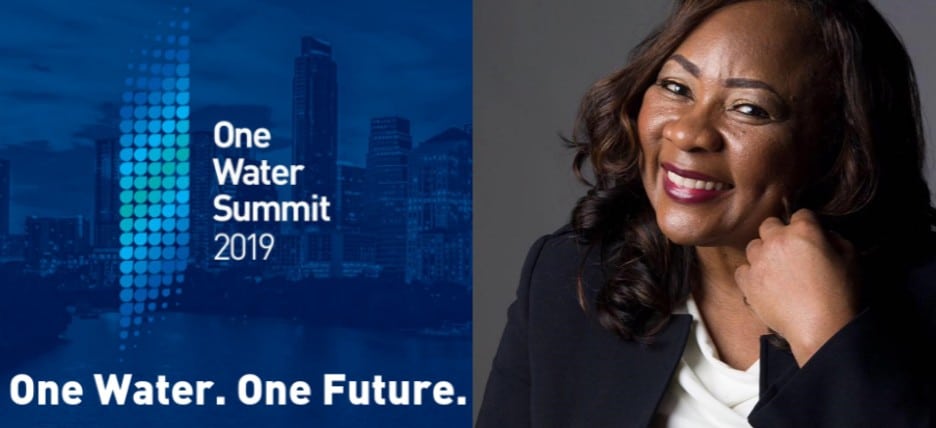 CEE's Catherine Coleman Flowers joins hundreds of solutions driven panelists in Austin, TX for the 2019 One Water Summit.  She will be speaking as part of Stories from the Frontlines: Closing the Water Access Gap on Thursday, September 19th, 1:30 pm – 3:00 pm.  Learn more about the 2019 One Water Summit…
Stories from the Frontlines: Closing the Water Access Gap
When we think of vulnerable communities that struggle with lack of access to drinking water and wastewater services, we tend to think of developing countries. The overall high quality of water systems in the US obscures the fact that 1.6 million Americans still lack access to complete plumbing facilities. Lack of access predominantly affects vulnerable groups like low-income people in rural areas, communities of color, tribal communities, and immigrants. Participants will hear from frontline leaders working in communities affected by water access challenges to learn about the innovative strategies they are developing to close the water access gap. The US Water Alliance partnered with DigDeep and Michigan State University to conduct extensive field research on the water access challenges in six hotspots: California's Central Valley, Puerto Rico, the colonias (along the Texas-Mexico border), tribal areas in the Four Corners region, the Deep South, and Appalachia. This session will feature policy recommendations and funding priorities and consider what it will take to make significant strides toward universal access to running water and indoor plumbing.
Moderators:
• Matthew Manos, Founder and Managing Director, verynice
• George McGraw, Founder and Chief Executive Officer, DigDeep
Speakers:
• Miguel Chacon, Financial Director & Housing Program Coordinator, AYUDA Inc.
• Ann Marie Chischilly, Executive Director, Institute for Tribal Environmental Professionals
• Catherine Flowers, Senior Fellow, Environmental Justice and Civic Engagement at the Center for Earth Ethics
• Zoe Roller, Senior Program Manager, US Water Alliance
Check out the agenda for One Water Summit 2019 here.