Simple Gifts for Mother Earth: An evening of Music, Conversation, and Inspiration to address the Climate Crisis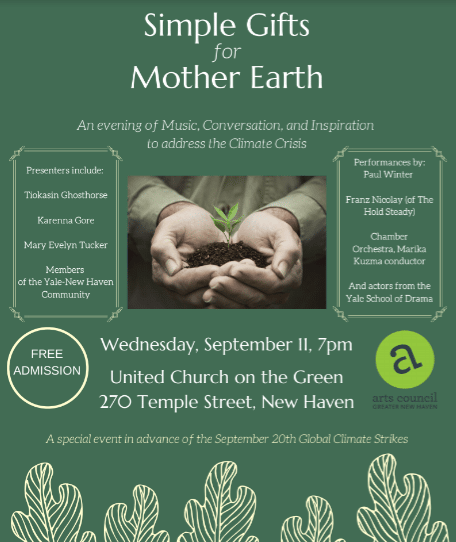 We gather in advance of the September 20-27 Global Climate Strike –
including events on the New Haven Green and the UN Climate Action Summit.
What can you do?
How can we mobilize action for the climate emergency?
FREE admission
United Church on the Green
270 Temple Street
New Haven, CT, USA
With presentations from Tiokasin Ghosthorse, Karenna Gore, Mary Evelyn Tucker, and members of the Yale-New Haven community.
With performances by Paul Winter (of the Paul Winter Consort), Franz Nikolay (of The Hold Steady), Actors from Yale School of Drama, and chamber ensemble, Marika Kuzma conductor.
For the full schedule, go to the event site here:
http://emergingearthcommunity.org/simple-gifts-for-mother-earth