Mashpee Wampanoag Solidarity Training
April 19, 2020 at 5:00 pm

to

7:00 pm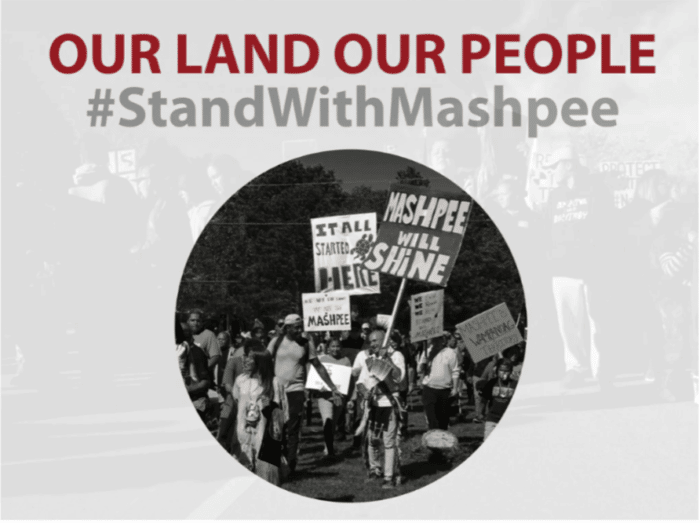 Learn how to support the Mashpee Wampanoag as they reverse the "disestablishment" of their tribal lands.
In this course, people across the country and internationally will learn to help the Mashpee Wampanoag retain their tribal lands from a recent federal assault. We will close the webinar with a Dream Warriors live concert. United we are unstoppable!
Last month, the Department of the Interior announced that Mashpee Wampanoag lands would be removed from federal trust and its reservation proclamation would be revoked. In our next webinar, participants will learn how to help directly from Mashpee Wampanoag tribal members to generate a national shield for their sovereignty. The disestablishment of their reservation is unacceptable, and to make this announcement during the COVID crisis is deeply cruel.
These 321 acres are all the Mashpee Wampanoag tribe has left. It is home to their health care system, tribal court system, education system, language immersion programs and more. We as a nation of many nations, are prepared to stand with the Wampanoag in peace and prayer to stop this critical assault on their community. If this precedent is established, other Indigenous communities could be likewise threatened. Any further erosion of native land holdings on this continent equates the further erosion of the dignity of American society. But while our ancestors were once divided, we of many races are prepared to stand united in support of the Wampanoag to rectify the wrongs of the past.
Participants in this webinar will receive an update on the situation from Mashpee Wampanoag tribal members, a training on how to help them at this time, and a live concert from the Dream Warriors Indigenous Artist's Collective to close it up. We believe that through nation-wide organizing, political communications and prayerful unification, we can pass the congressional legislation needed to uphold Wampanoag sovereignty.
We are excited to see you all on Sunday, April 19th from 2-4 PM Pacific time and if you can't make the live webinar, please register still and you will receive a recording.A portion of the proceeds from suggested donations will go to the Mashpee Wampanoag Nation. The remainder will help native families struggling in the COVID 19 crisis. No one will be turned away for lack of funds. Everyone of every background is encouraged to join.