Her Many Voices: Indigenous Wisdom for Modern Challenges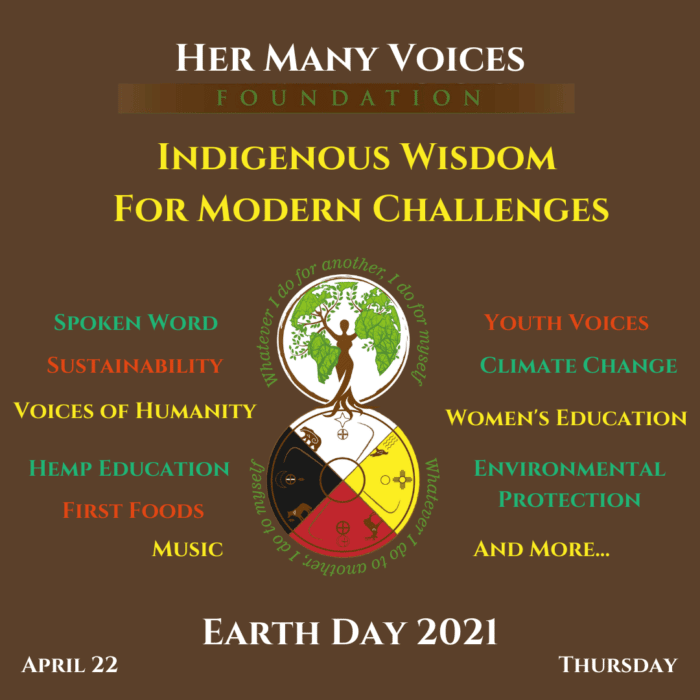 Center for Earth Ethics' Senior Fellow for Original Caretakers, Mona Polacca and CEE Executive Director, Karenna Gore will be sharing their voices as part of this Earth Day event.
Tune in at 12:30 pm Mountain Time / 2:30 pm Eastern Time on April 22nd for Mona and Karenna's contribution.
Her Many Voices is honoring Earth Day this year by having a virtual, all day, international event: Indigenous Wisdom for Modern Challenges. We are bringing attention to individuals, businesses and organizations who are working in this world from the wisdom of our ancestors, our elders, our connections. All to bring a higher vibration to humanity. Clearly we need it.
Register here: https://bit.ly/2021CelebrateWisdom and subscribe to Her Many Voices YouTube channel to make sure you don't miss a thing! 
The growing number of participants are from Kenya, Nigeria, Tanzania, Zimbabwe, Zambia, Australia, Latvia, Czech Republic, Mexico, Canada, Hawaii and the states. Topics range from Climate Strong Initiatives to the Hemp Industry to Finances to Traditional Weaving.​
The schedule for this event is coming soon.
Learn more what some of our participants will be sharing about: hermanyvoices.org/earth-day