Black Women, Green Future: Environmental Justice and the New Political Landscape
Feb 25 at 7:00 pm

to

9:00 pm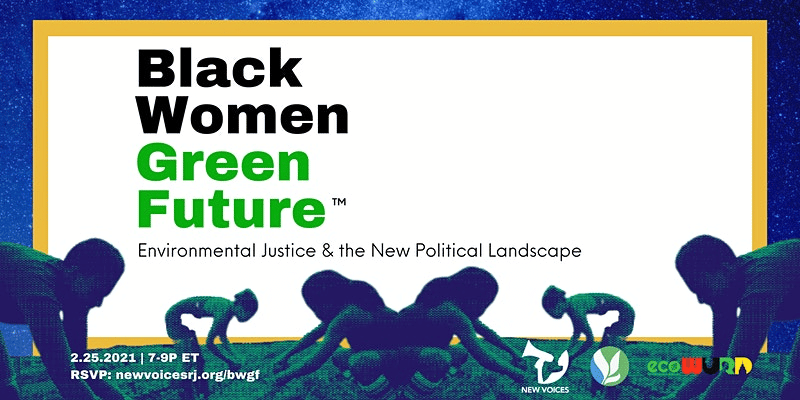 The Center for Earth Ethics is proud to be a co-sponsor of Black Women, Green Future hosted by New Voices for Reproductive Justice and their Environmental Justice Project on Thursday, February 25, 7-9 PM ET in partnership with WURD Radio, Philadelphia during Women of Color HERStory Month 2021.
The Keynote Speaker is Jacqui Patterson, Director of the NAACP Environmental and Climate Justice Program.
Featured Panelists are:
– Pennsylvania State Representative Summer Lee of Pittsburgh;
– Nourbese Flint, Policy Director at Black Women for Wellness in Los Angeles; and
– Kerene Tayloe, Esq., Director of Federal Legislative Affairs at WE ACT for Environmental Justice based in New York and Washington, DC.
We will also highlight a Black women-led environmental justice organization or business in Philadelphia, Pittsburgh and Cleveland during our program. 
This event is free and open to the public.  REGISTER
If you would like to be a co-host, have any questions or would like to sponsor Black Women, Green Future, please contact Matt Dean, Environmental Justice Exchange Coordinator, at [email protected].
#BlackWomenGreenFuture #WOCHERStory #ReproJustice

New Voices for Reproductive Justice is a Human Rights organization dedicated to the health and well-being of Black women and girls and women of color. Since 2004, New Voices Pittsburgh has served 125,000+ Black women, femmes, girls, women of color and LGBTQ+ women of color through leadership development, community organizing, policy advocacy and culture change. Our priority issues are sexual & reproductive health, LGBTQ+ rights, health care access, ending gender-based violence, incarceration and environmental justice.
Visit us online at www.newvoicesrj.org!