A Climate Convergence:  Uniting for Victory 2021
December 9, 2020 at 12:00 pm

to

December 10, 2020 at 8:00 pm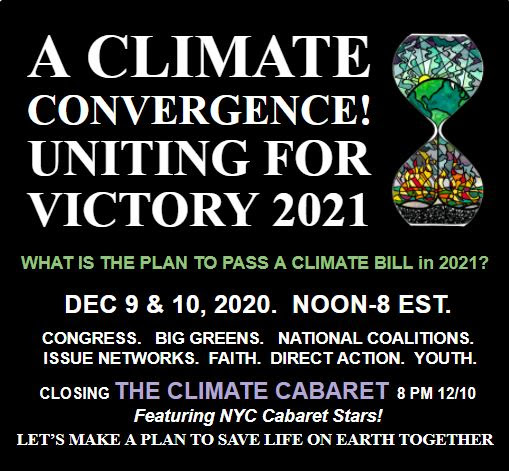 A Climate Convergence: Uniting for Victory 2021
What is the Strategy for National Climate Legislation?
How Can We All Unite in Common Cause for Success?
Register Today!
Wed. Dec 9 & Thurs. Dec.10, 2020
Six Sessions.  Noon-2.  3-5.  6-8 pm. ET
Closing Climate Cabaret.  Thurs @ 8 pm ET
Featuring
Over 25 Organizations!
1. Sascha von Bismarck, Executive Director, Environmental Investigation Agency   
2. Navina Khanna, Director, HEAL Food Alliance
3. Nigel S. Savage, President & CEO, HAZON
4. Niaz Dorry, Executive Director, National Family Farm Coalition
5. Alfred Meyer, Board of Directors, Physicians for Social Responsibility
6. Chad Frishmann, Vice-President & Director of Research, Project Drawdown
7. Rev. Michael Malcom, Founder and Executive Director of the People's Justice Council & Executive Director, Alabama Interfaith Power & Light
8. Kieran Suckling, Executive Director, Center for Biological Diversity
9. Rev. Dr. Liz Theoharis, Director, Kairos Center for Religions, Rights and Social Justice at Union Theological Seminary; & Co-Chair, Poor People's Campaign: A National Call for Moral Revival
10. Mark Reynolds, Executive Director, Citizens Climate Lobby
11. Rev. Fletcher Harper, Executive Director, GreenFaith
12. Lise Van Sustren, Steering Committee, Climate Psychiatry Alliance
13. Jacqui Patterson, Sr. Director, Environmental and Climate Justice Program, NAACP
14. Michelle Deatrick, Chair, DNC Council on the Environment & Climate Crisis
15. Ken Berlin, President and CEO, Climate Reality Project
16. Shantha Ready Alonso, Executive Director, Creation Justice Ministries
17. Randi Weingarten, President, American Federation of Teachers
18. Rise & Resist, Climate Team
19. Rania Batrice, Executive Director, March for Science
20. Roberto Mukaro Borrero, President, United Confederation of Taíno People
21. Bob Perkowitz, Founder & President, EcoAmerica
22. Kyle Meyaard-Schaap, Young Evangelicals for Climate Action    
23. May Boeve, Executive Director, 
350.org
24. Christine See, Extinction Rebellion NYC
25. Cornelius Blanding, Executive Director, Federation of Southern Coops
26.  Tia Nelson, Managing Director Climate, Outrider
27.  Peggy M. Shepard, Executive Director, WE ACT for Environmental Justice   
28.  Jim Walsh, Senior Energy Policy Analyst, Food & Water Action &  more!
SIX SESSIONS
WED. DEC. 9. & THURS. DEC. 10.
WED.  NOON-2.  LEGISLATIVE PLANS & CONGRESS
WED.  3-5 PM.  MAJOR ENVIRONMENTAL ORGS
WED.  6-8 PM.  NATIONAL COALITIONS
THURS.  NOON-2.  POLICY COALITIONS
THURS.  3-5 PM.  FAITH ORGANIZATIONS
THURS.  6-8 PM.  DIRECT ACTION & YOUTH
THURS. 8-9 PM.  CLOSING CLIMATE CABARET
CLIMATE CABARET ★ Featuring Stars of NY Cabaret!
★ Barbara Brussell ★ Matt Berman ★ Mark Arthur Miller ★ Marissa Mulder
★ Karen Oberlin ★ Christine Pedi ★ Meg MacKay ★ Billy Philadelphia
LET'S TALK STRATEGY! WHAT'S THE DEMAND & PLAN!
HOW ARE WE GOING TO SAVE OURSELVES?
THANK YOU SYMPOSIUM CO-HOSTS!
Climate Crisis Policy ★ Climate Reality NYC ★ Drawdown NYC ★ Organic Consumers Association ★ Family Farm Action ★ 350 Kishwaukee ★ Hazon ★ Tennessee Interfaith Power and Light ★ Mighty Earth ★ Loretto Earth Network ★ Climate Nashville ★ Climate Chattanooga ★ Climate Reality Project Peconic Region ★ Climate Reality Project Suffolk County ★ Students for Climate Action ★ Climate Reality Project Capital Region ★ Climate Reality Project Westchester ★ Climate Reality Project Rockland ★ Climate Reality Project Finger Lakes ★ Climate Reality Project Chautauqua County ★ Climate Reality Project hudson Valley & Catskills ★ Protect All Children's Environment ★ Center for Biological Diversity ★ Laurie M. Tisch Center for Food, Education & Policy ★ 350 Central Massachusetts ★ Pesticide Action Network ★ 350 Chicago ★ Earth Day Initiative ★ Unitarian Universalists for a Just Economic Community ★ Hugelrado Farms ★ Climate Action Iowa ★ Climate Reality Project Greater NJ Gateway Chapter ★ United Confederation of Taíno People ★ Rise & Resist
Questions for Presenters: [email protected]ClimateCrisisPolicy.com
LET'S GET TOGETHER & SAVE THE WORLD!