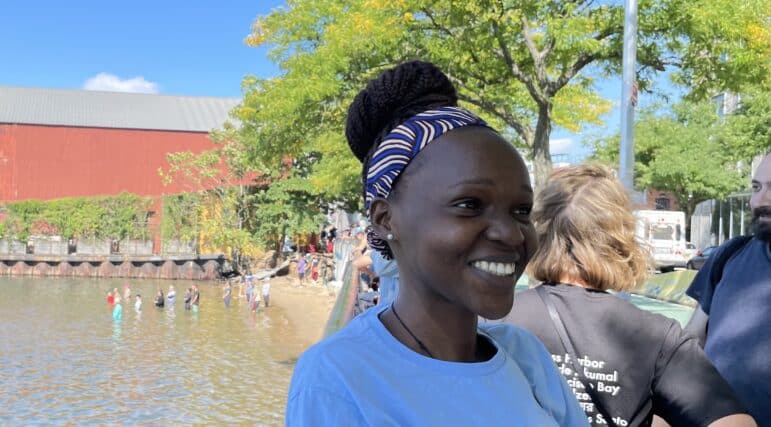 The Center for Earth Ethics: A Reflection
Editor's Note: During Fall 2022, the Center for Earth Ethics was proud to host Ugandan NGO leader Teddy Nalwanji as a Community Engagement Exchange Program Fellow, part of a US State Department-supported program. In this post, Teddy reflects on her time at CEE and in New York.
"New York, here I come." That was my first thought way back in April 2022 when I learned that I had been placed with the Center for Earth Ethics as my host organization for the IREX Community Engagement Exchange program. The CEE program is a yearlong transformational leadership experience designed to equip dedicated visionaries aged 21 to 28 with expertise, skills and resources to develop multisector approaches and build healthy and engaged communities in more than 100 countries. One component of this program is a three-month practicum in the United States. For my practicum, I was placed with the Center for Earth Ethics.
The Center for Earth Ethics is located at Union Theological Seminary on Broadway. For a girl from Uganda who never thought I could ever step on American soil and only heard about Broadway from movies, I thought Broadway was all about movies and theatre. The placement at the Center served well to clear my misconceptions. The Center for Earth Ethics works through education, convening and advocacy — engaging individuals and communities to change public consciousness towards nature inspiring them to prioritize the well-being of not only people but also the planet. The organization works at the intersection of values, ethics and ecology to confront the climate crisis.
From top left: (1) Executive Director Karenna Gore and Teddy Nalwanji, (2) UN Special Rapporteur Nazila Ghanea and Ms. Nalwanji, (3) Ms. Nalwanji at 36.5 performance at the East River, Queens, N.Y., Sept 14, 2022; (4) Research Associate Alyssa Ng and Ms. Nalwanji at the main branch of the New York Public Library; (5) Ms. Ng, Ms. Gore, Office Manager Eugenia Cooper and Ms. Najwanji on Dec 3, 2022; (6) Ms. Nalwanji with a memento of her practicum.
As a CEE fellow with IREX, my theme was resilience and sustainability, and my work focuses on informing communities about climate change and its effects on their health. Because of my interests in climate change, I felt well placed with the Center. From September to early December 2022, I worked via the hybrid model with the Center. Working from home was a challenging yet rewarding experience. It required self-motivation, discipline and organization. However, it was an added advantage for someone like me who was unfamiliar with the geography of New York City and the United States and the city's heavily tech-dependent public transport system. I experienced US work culture firsthand. Our work involved organizing different public speaking events on climate change, resilience, belief and Indigenous communities across New York city, the United States and other continents.
The incredible team at the Center was very supportive, giving me time to get used to how things run at the Center. It was a truly rewarding experience because I learnt to collaborate with the team across different platforms, prepare grant proposals, and build partnerships with other organizations. Today, I can happily boast that my experience working with the Center improved my work ethics, professionalism, time management, communication and public speaking skills.
It was a great honor to work with an organization amplifying Indigenous communities and witness both the former and current United Nations Special Rapporteurs on Freedom of Religion or Belief reflect on the UN report, " Indigenous Peoples and the Right to Freedom of Religion or Belief," at a forum organized by the Center on October 26. My practicum was not only about work but also gaining knowledge. I had an opportunity to read widely about climate change and how it impacts not only human life but every other aspect of the ecosystem. Through mentorship from the Center, I developed and presented my research project, dubbed the Climate Smart Initiative, where I hope to change the perceptions of slum communities towards waste management and segregation.
Every conference we organized was also a chance to tour New York City, from visiting the Tzu Chi Center, to "A Species between Worlds" exhibit, to the different facilities at Columbia University. The team always spared time to take me around New York City, I visited the Cathedral of St. John the Divine, Bryant Park, the Grand Central Station, the New York Public Library and had a taste of Italian and Chinese cuisine courtesy of their efforts. I already miss the leisurely walks I took through Morningside Park and Riverside Park on my way from work.       
I cannot be grateful enough to the team at IREX working on the CEE program, the entire Center for Earth Ethics team, my host family, the US Department of State and the US community for the exposure. It was a thrilling experience that comes only once in a lifetime. I hope another visionary leader gets the opportunity to do their CEE fellowship with the amazing team at the Center for Earth Ethics.