Climate Stories Project Launch
Wednesday, November 15, 2023 – 7 p.m.
Horace Mann Hall 150, Teachers College, 125 West 120th Street, New York City
Have you noticed any environmental changes in your backyard, neighborhood, community, or country? The Development, Environment, & Wellness Lab at Teachers College would like to hear your story about how climate events have affected you and those around you.
Every individual has a role to play in shaping the understanding of our planet's future. DEW Lab has created the Climate Stories Project to collect the testimony of one individual at a time. The video or written submissions will share individuals' observations, the histories behind them, and the thoughts and feelings that accompany them.
This collection of public stories, which will be shared on the Climate Stories website, will become a grassroots data bank of lived climate change experiences and their impacts on us all. This international conversation can drive change, create awareness and foster solutions.
You can learn more at the official launch of Climate Stories Project on Wednesday, November 15, at 7 p.m., at Horace Mann Hall, 125 West 120th Street in Manhattan. Karenna Gore, executive director of the Center for Earth Ethics and visiting professor at Union Theological Seminary, will deliver remarks. DEW Lab will also present on its other projects, including the Microanalytic Study, the Gender Project, and environmental justice.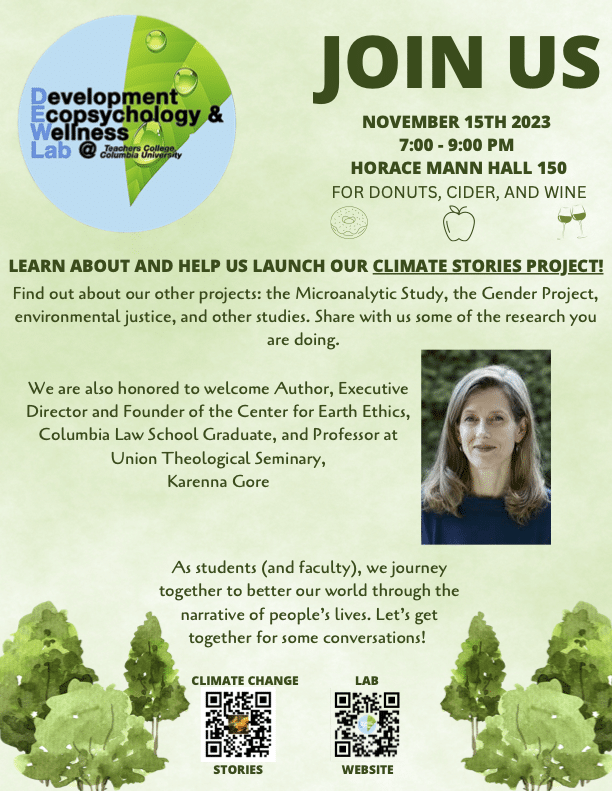 To submit a video or written story, please visit DEW Lab Climate Stories.  Please speak or write in your language. DEW Lab will provide translations as necessary.