Each summer, the Parliament of the World's Religions brings together individuals and faith-based organizations committed to justice, peace, and sustainability. This year's convening in Chicago, with several thousand visitors representing 200 diverse religious, Indigenous and secular belief systems from more than 80 nations, will be the year's largest gathering of the world's religious and spiritual leaders, and practitioners.
Organized around the theme of "A Call to Conscience: Defending Freedom & Human Rights," the 2023 Parliament has a powerful focus on climate change and the imperative for climate action. The Center for Earth Ethics is proud to be participating in this year's Parliament, including remarks by Executive Director Karenna Gore at Friday's morning plenary session.
On Thursday, August 17, at 8 a.m. (Chicago time), Ms. Gore is a speaker at "Faith-based Divestment from Fossil Fuels," a panel moderated by environmentalist David Hales. Other panelists include Sue Ernster, president of Franciscan Sisters of Perpetual Adoration, Michael Trice, founding director and Spehar-Halligan Professor at the Center for Ecumenical and Interreligious Engagement, Rob Fohr, director of faith-based investing and corporate engagement at Presbyterian Church U.S.A., and Imam Saffet Catovic, chair of the Parliament of the World's Religions Climate Action Task Force.
Also on Thursday at 8 a.m., Project Manager Shannon Michaela Doree Smith, who is also the founder of Women of the Water, is a speaker at "Sacred Water in a Climate Changed Era," a session explores the sacredness of water through the lenses of different faith traditions. Other panelists include Blair Nelsen, executive director at Waterspirit, Theresa Ardler, a First Nations descendant and a sessional academic in the faculty at The University of Notre Dame Australia, and Grove Harris, director of global advocacy at Temple of Understanding.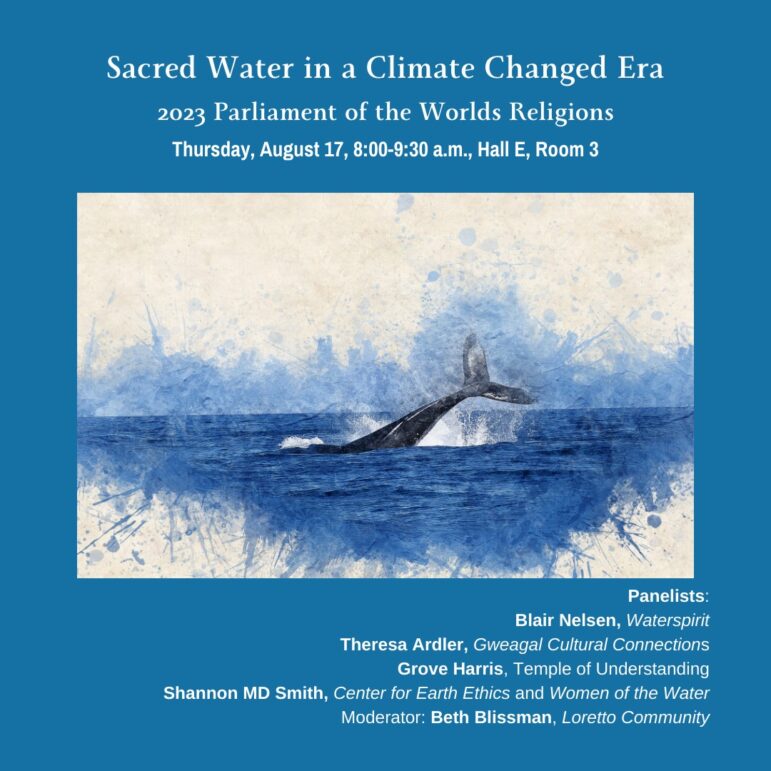 On Friday, August 18, at 10 a.m., Ms. Gore will be a speaker at the Climate Action Assembly II on the main stage. The other speakers at this plenary session include Bishop Marc Andrus, Brother Benedict Ayodi of Franciscans International/Laudato Si Movement, Sir Partha Dasgupta, Frank Ramsey Emeritus Professor of Economics at the University of Cambridge, The Rev. Dr. Gerald Durley, journalist and broadcaster Robin Robinson, and Robby Romero, United Nations Ambassador of Youth for the Environment. (The plenary will be streamed online to virtual ticketholders.)
On Monday, CEE Advisory Board member Jacqueline Patterson was a panelist at "Women and Youth's Transformational Leadership: Women at Decision-Making Tables." On Wednesday, she was a panelist on Caring for Creation: Women on the Front Lines of Climate Action." Ms. Patterson is the founder and director of Chisholm Legacy Project: Black Femme Leadership on Climate Justice based in Burtonsville, Maryland.
On Wednesday, CEE Advisory Board Member Kusumita Pedersen was a panelist at "Understanding Spiritual Rights: A Pathway to Defending Human Rights," a session with spiritual leaders who are affiliated with the greater United Nations community. Dr. Pedersen is professor emerita at St. Francis College, a trustee of the Parliament, and chair of the Interfaith Center of New York.