Most content originally published by ARTivism Virginia and Virginians for Justice!
On May, 17, 2019 Virginians and allies from the region walked with Union Hill to demand environmental justice and a stop to the Atlantic Coast and Mountain Valley fracked gas pipelines. They were joined by William Barber III and Karenna Gore of the Center for Earth Ethics. Returning to the route across the Robert E. Lee Bridge into Richmond traveled by civil rights advocates 51 years ago during Martin Luther King, Jr.'s historic Poor People's Campaign march to Washington D.C., hundreds called for an end to environmental racism and new fossil fuel infrastructure that threatens our ability to protect our homes, our water, and our children's future.
"We're not here by accident. Every single one of us is here for a reason. We are all gathered together for a reason. We hold these truths to be self-evident. We will treat each other with equal dignity and justice. We will make democratic self-government work. And we will live responsibly on this planet – it's a sacred place." – CEE Director Karenna Gore.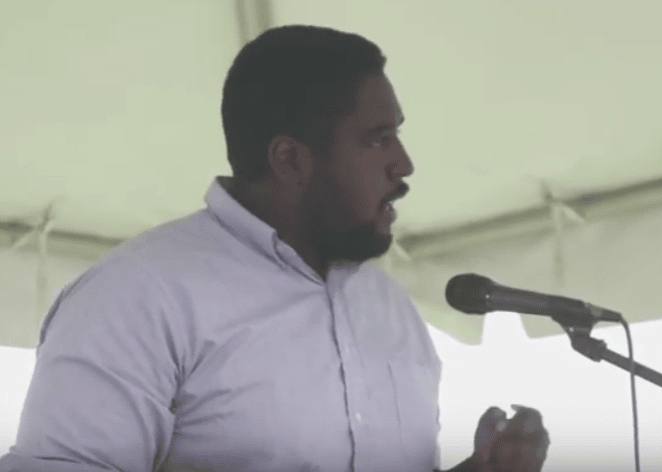 "This struggle is going to have global significance…
1968, Dr. King, in true prophetic form declared that we have in our lifetime an opportunity to avoid a natural disaster of grand design and to create a new spirit of economic and social harmony.  An opportunity to write a luminous moral chapter in American history – if we only choose." – William Barber III
Jessica Sims of Sierra Club Virginia Chapter led the collaboration of dozens of Virginia environmental and grassroots organizations, including the Virginia Poor People's Campaign. Musical support was provided by the SUN SiNG Collective of ARTivism Virginia.
Hand in hand, ART and ACTIVISM stoke our imaginations and remind us of our creative, beautiful, renewing, and resilient capacity for change. 
Featured here is singer, BJ Brown and speakers Queen Shabazz, Genesis Chapman, Karenna Gore, William Barber II, and Marie Gillespie. Other speakers for this event included: Beth Roach, Pastor Paul Wilson, Evelyn Dent, Lakshmi Fjord, Richard Walker, Andrew Tyler, Swami Dayananda, John Laury, Andrea Miller, Travis Williams and Chad Oba. Other ARTivists included All the Saints Theater, Lilly Bechtel, Tom Burkett, Tom Elliott, Kay Ferguson, Gabe Gavin, DeRon Lark, Jameson Price, Mara Eve Robbins, Graham Smith-White, Laney Sullivan, Siva Stephen Fiske and Joshua Vana.
Many Thanks to ARTivism Virginia – for capturing Walk with Me:
Also:  Video From May 17th March from Chesapeake Climate Action Network
In the News: Faith Leaders March in Protest of the ACP, ABC News 8
Yes Virginia, We Can Stop Mountain Valley and Atlantic Coast Pipelines.  Here's how.
***
"To the River" No Pipeline Anthem written by Joshua Vana, arranged, performed by the SUN SiNG collective . "To the River" was recorded and filmed along the MVP & ACP fracked gas pipeline routes in areas of devastation using the Sun Bus and videographer, Sarah Hazlegrove.
***
Herring, Stand with Appalachia: No Mountain Valley Pipeline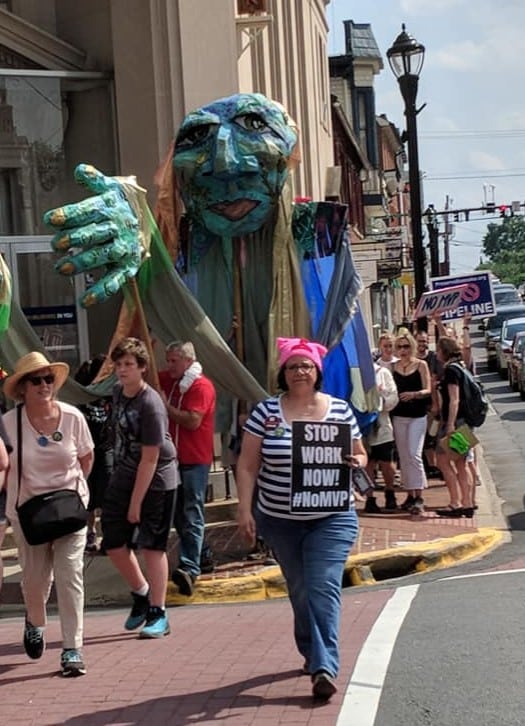 May 18th, activists and Artivists also gathered in Leesburg, VA, Virginia Attorney General Mark Herring's hometown, to ask Herring to stay on the side of the people and clean water.
"We request that Mark Herring
1) halt work on Mountain Valley Pipeline,
2) pursue his lawsuit against MVP to its fullest and refuse to settle the case for petty fines,
3) and affirm the state's authority to revoke the 401 water quality certification that it granted."
Speakers included Del. Sam Rasoul, Del. Chris Hurst, Del. Elizabeth Guzman and Professor Emily Hammond, George Washington Law.
The event included music by Rachel Eddy and the SUN SiNG Collective, including  Joshua Vana, Bj Brown, and Graham Smith-White.  And also featured CEE's Karenna Gore, and Rev. Yearwood of the Hip Hop Caucus.
Video From May 18th, 2019 – Herring, Stand with Appalachia: No Mountain Valley Pipeline
In the News: Pipeline Protest Comes to Herring's Hometown