On the eve of Climate Week we gathered in an historic meeting house church on the New Haven Green to center ourselves, align our intentions for the days ahead and to be reminded of why we gather at this time, and what's at stake.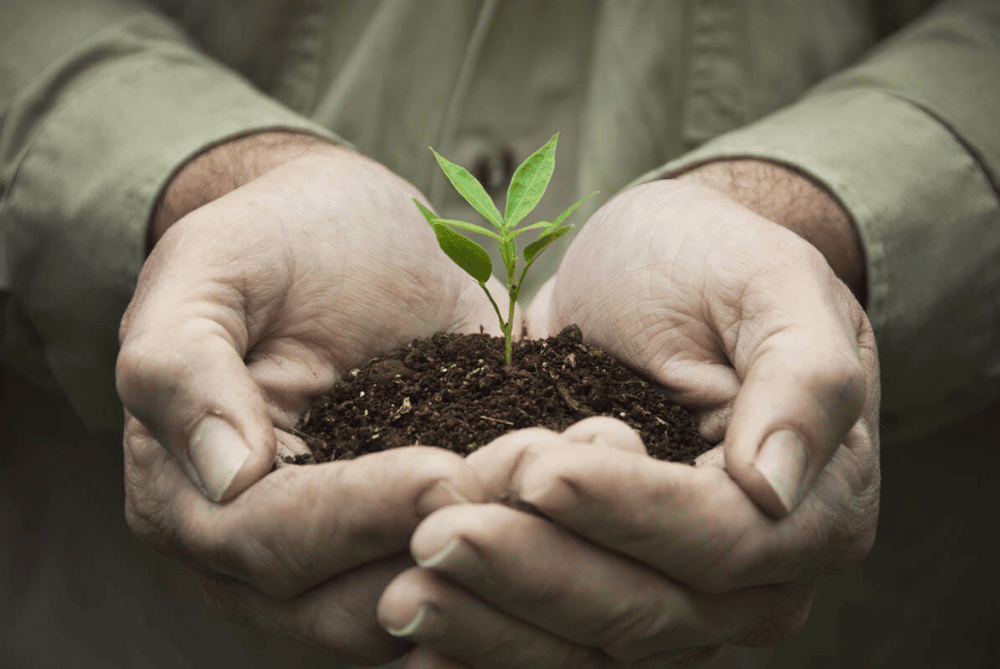 Invocation – Tiokasin Ghosthorse
What we are doing here is a good thing.  We must hold her in our arms… we drink her water which is the milk… we understand the Earth… we have understood for a long time… it has always been about the relationship with Her.  The rocks have a consciousness and intelligence, the fire has… the trees… the water… how do they live within us?  We are in this together .  This is who we are in a very practical and related way.  I want to invite Mother Earth here.  I'm here because She deserves to be first.
Inspired by the Universe's Story
Mary Evelyn Tucker has been leading the call to education around climate conditions in the halls of our most hallowed institutions for decades. She directs the Forum on Religion and Ecology at Yale with her husband, John Grim.  She continues to call into focus the craftsmanship to articulate that which has never been before – across generational narratives and with a single aim – to appeal to our best selves and point them in the direction of healing and protecting our world.
Many cultures share a common theme in our origin stories that says we come from the stars.  Out of a super nova all the elements of our earth emerged and from that all life forms have actually been derived – the stars literally are our ancestors.  We reference Deep Time – the time of the cosmos – that has birthed life over billions of years.  It is 'a story of magnificence' but also a story that grounds us in a sense of our purpose because it raises the questions like all of the worlds religions do in their creation stories: Where have we come from ?  Why are we here? How do we belong?  And what is our work?
Mary Evelyn Tucker points us to Thomas Berry, and that he would say – 'We have a Great Work.  We have work to be done at this particular moment in human history.'  A work to be done, a "Functional Cosmology".  The story of magnificence of life that invokes in us a sense of awe and wonder, a trait of the monastic and contemplative life, and yet that we also have a responsibility for it.
And perhaps this is the same calling our youth are responding to – the youth of the sunrise movement at Yale and around the country.  A calling to protect that which we are in awe of from the Grand Canyon, to the flight of a honey bee, to complex opening of each and every flower.
The sense of awe and appreciation for nature is deeply rooted in our sense of faith in traditions around the world.  It is our job to appeal to our highest selves, to restore value to our sense of awe at the beauty in nature and the fundamental order of its construct as it is expressed through science and spirituality.
We are called to seize the moment to give our all… Simple Gifts for Mother Earth.  May our words and music tonight bring inspiration to the great work ahead.
***
Music as Meditation
The legendary Paul Winter offered us a few minutes, an interlude.  This window was an invitation to remember nature and the beauty in it, as well as the beauty it inspires in art and how art can inspire us to protect nature.  Mr. Winter performed the Song of the Wood Thrush.  It alternates the sound of flute, with the actual birdsong.  He explained each wood thrush has a four note song.  At the time he conceived the collaboration, the species was endangered.  He feared our children would never know the beauty of the song unless he made this recording.  His commitment led to the saving of some 515 acres of their woodland territory.
***
There is an order to things.  A sense of natural law that when one is abiding by it miracles seems to unfold.  We track this through patterns in nature.  We observe the Fibonacci sequence mathematically reoccurring throughout nature.  And there is an order to our societal needs as well.  We can measure this only by our joy, the alleviation of suffering and the relief of when agreed upon outer reality seems to match our inner reality.
What the Great Work teaches us through the lens of Earth Ethics, is that through a series of acknowledgements a certain kind of work gets done.  One that brings cohesion and aligns principles.  It can even lead us to consensus, at times without us even realizing it.

This series of acknowledgements includes acknowledgement of first nations presence, existence, and wisdom

acknowledgement of the miracle that is life in all its forms and its right to live without fear or threat

acknowledgement of the rights of future generations to public space, clean air and clean water

***
The Youth and the Community are Speaking
We heard from several members of the Yale and New Haven Communities of projects, meetings, advocacy groups and opportunities to be involved in the work of spreading awareness, raising funds, securing divestment and on it goes.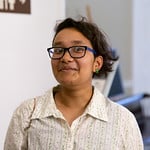 Adrian Huq is a high school senior at Metropolitan Business Academy in New Haven who is passionate about sustainability and climate activism. They have been working with Elm Energy Efficiency Project since last year to educate their school community on energy efficiency, and also serve on New Haven Climate Movement's Youth Action Team.
Ms. Huq joyfully announced from the pulpit that the Board of Alders in New Haven unanimously declared a climate emergency the Tuesday night preceding our event.  They ordered the creation of a new Climate Emergency Mobilization Task Force charged with leading the push to end community-wide greenhouse gas emissions in a decade.
They unanimously recommended approval of an amended version of a climate emergency resolution that was drafted and proposed by Westville Alder Darryl Brackeen, Jr. and that has been supported for months by a youth-led coalition of environmental activists called the New Haven Climate Movement.
Doing the Work and Bringing it Home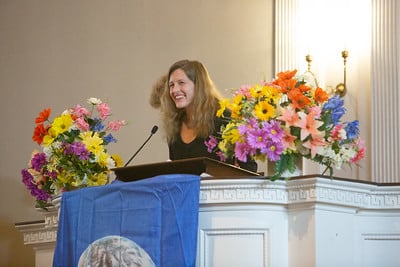 CEE Director Karenna Gore spoke at length from the scholastic work of Earth Ethics on economics and the illusion of externalities, on data, the realities of environmental injustice, on the theology of "structural evil", "the cultic commitment to greed", and the simple clarifying point made by Oscar Wilde that 'a cynic is someone who knows the price of everything and the value of nothing'.  And with the evidence presented, we return to our purpose, to prepare to walk into the streets.
In closing … she offered…
"I want to invoke the words on the beautiful flyer for this event—"how can we mobilize action for the climate emergency?" As we have heard, on September 20th, there will be a climate strike led by Greta and other youth activists. I hope to see each of you out there in some way- and lets commit to getting a few more to join us – and let's make sure that they are all registered to vote while we are at it. And let us also fund those communities who are fighting fossil fuel expansion projects in their own communities and stand with them however we can.
The challenge of climate justice is also a great gift. Mother Earth has given us the gift of the laws of nature and the ability to learn them from experience and align with them. It is our gift back to her to show we understand, to simply agree to behave as if we belong here."
And out into the streets we go…
***
Full Transcript of "The Challenge of Climate Justice", Karenna Gore
Simple Gifts for Mother Earth
It is an honor for me to be here with these powerful voices in this beautiful sanctuary- thank you Pastor Jocelyn for welcoming us here at the United Church on the Green. I want to say thank you to the other speakers—it was wonderful to hear from the New Haven community climate activists and just as Mary Evelyn spoke of "connecting the dots," we at Center for Earth Ethics want to connect to what you are all doing. And also thanks especially to these phenomenal musicians what an honor and pleasure to be in the presence of such a great artist as you, to hear and absorb the meaning in your music. 
And to Mary Evelyn Tucker and John Grim, I cannot say enough thanks for your guidance and example. I entered this field through conversations with Mary Evelyn and John- and through working alongside them to understand that the bridge between scholarship and activism is important to build and maintain and also that there is a flowing river of– the cultures and stories and though forms that shape our behaviors, the very essence of our perception of this life we are in together. The Yale Forum on Relgion and Ecology is simply extraordinary, as a resource, a platform and an example.  I'm honored to be here with you all and grateful to you always.
The UN Climate Summit is upon us. Five years ago, we hosted a gathering called Religions for the Earth on the occasion of the 2014 Climate Summit called by then SG Ban ki Moon. On the day our conference opened, an essay was published in the journal Science, co-authored by an economist and a climate scientist, that expressed the need for religious leaders to come forward to help because all the decades of research and analysis and reports were not even making a dent. They wrote: "Over and above the institutional reforms and policy changes that are required, there is a need to reorient our attitude towards nature and thereby ourselves." And so this work tonight- simple gifts to Mother Earth- is as practical as it is profound- and it is essential to facing this climate emergency.
Science and economics and data are important but they have not been enough. We know that one half of the global warming pollution in the atmosphere now has been put up there in the last 25 years, the time in which the harm has been most known. In that time we have also lost vast swaths of forests that serve as carbon sinks. Even with the increasing readiness and viability of clean renewable energy, about 80% of the world's energy still now comes from fossil fuels. We see the impacts- the Bahamas is the latest field of devastation in the stronger storms, wildfires, droughts, floods that plague us.
We know the urgency to drastically reduce greenhouse gases. The IPCC gave us a window of twelve years that we entered over a year ago, to dramatically change our ways to cut global warming emissions in order to keep the warming of our planet to 1.5 degrees Celsius, which is 2.7 degrees F. These numbers might seem small but we know a degree can be the difference between ice an water- it can make all the difference to the web of life we live within. CO2 must fall nearly 45% from 2010 levels by 2030 and we must halt the release of methane (the primary component of what is known as "natural gas,") which is up to 80 times more heat-trapping that CO2 over a 20 year period. 
And yet, the US is set to double down on carbon intensive energy. USA Today had an article Monday citing 277 fracked gas power plants planned for construction. This administration is rolling back regulations on methane emissions, and even the fuel efficiency standards of automobiles- against the wishes of major automakers. We know that the vast majority of known fossil fuel reserves must remain in the ground, and yet there is a desire to explore and drill for more. Not just anywhere- in cherished public lands and even in deeply sacred places- including in the Arctic, the sacred land of the Gwich'in, the caribou calving grounds that they have revered and cherished and protected for millennia. An article in the Guardian on September 5 citing a recent study by Carbon Tracker reported that "Since the start of last year, fossil fuel companies have spent billions on high-cost plans to extract oil and gas from tar sands, deepwater fields and the Arctic despite the risks to the climate." And we know they spend millions on lobbying and misinformation as part of that effort. 
What could possibly be held up as the justification for increasing our use of fossil fuels at this time? Economic growth. Economic Development. The most persuasive argument that is ever made on the other side is that we need more fossil fuel extraction and burning in order to alleviate global poverty. 
But we know that is not real. The U.N. Special Rapporteur on Extreme Poverty and Human Rights, Philip Alston, issued a detailed report last month warning of a coming era of "climate apartheid" and clearly stating, with facts to back it up: "Climate change threatens to undo the last 50 years of progress in development, global health, and poverty reduction . . . It could push more than 120 million more people into poverty by 2030 and will have the most severe impact in poor countries, regions, and the places poor people live and work." 
We must keep in mind something eco-theologian Cynthia Moe Lobeda has pointed out- building on the work of Larry Rasmussen and of Dietrich Bonhoeffer, the great theologian who was executed by the Nazis in his effort to resist them in his native Germany. The point is that there is a kind of sin or evil that is structural, and one of the key characteristics of "structural evil" is that it easily masquerades as good. This is all too true of the structural evil we are dealing with today- fossil fuel development masquerades as good. A central part of the challenge of climate justice to understand, to educate, to lift up the voices on the frontlines of fossil fuel projects who are speaking from their own life experience. To see through the mask- to take off the mask.
Some champions of the current system simply say there is money to be made. I read a profile in the Financial Times on Sept 2 of an oil trader who was lauded as the best connected and most successful in the business. It opened with an account of him on the phone hearing a firsthand witness tell of the crude oil spilling out during the Exxon Valdez disaster of 1989—11 million gallons onto the pristine Alaskan coast- and the story tells of him breaking out in a huge grin, calling his clients to tell them gleefully,  "the price is going up." This was not even presented as a negative story, but rather as a portrait of a genius at work, a master of our current system, and it reflects the reality of a deeply cynical mindset that has taken hold.
Oscar Wilde wrote that a cynic is someone who knows the price of everything and the value of nothing. The current system is based on a widespread cynical misperception. It is premised on an insane alternate reality and is hell bent on devouring everything of real value . . our air, land, water, communities, life itself, all for the sake of numbers on a balance sheet. The current economic paradigm- including the measurements used to judge how the "economy" is doing (such as GDP or the stock market snapshots)- does not count depletion of resources, pollution or inequitable distribution of wealth, even the fostering of illnesses and disease. These are all considered, in the language of economics, "externalities." Now as the pace and scale of production and consumption increases and demands more land and fuel, there are some clarion voices of reason who come from outside this system. Chief Raoni Metuktire of the Kayapó people of the Amazon had an op-ed in the Guardian on Sept. 2 in which he made the observation: What you are doing will change the whole world and will destroy our home- and it will destroy your home too."
Our economic, energy and environmental policies not rational- they are fanatical. Only a kind of misguided religious fervor could drive this sort of thinking. Rev William Barber II has spoken of a "cultic commitment to greed." Don't ever think that those who study and talk about faith are naïve or soft- those are the people who are most likely to know what is is we are dealing with here. Even just the underlying assumption that human beings are separate and superior from the rest of all life, that we are meant to dominate and control all of nature . . . this thinking is neither rational nor it is actually secular, even though it is secularized. It is an extremist distortion and manipulation of a religious claim. 
And this brings us back to the challenge of climate justice. In thinking about issue, I like to remember a construct offered by Henrik Grape of the Church of Sweden- that any decision making room about energy or climate should designate three empty chairs for those who are both most impacts and least likely to be part of the consciousness of decision making: the poor and marginalized peoples of the world, future generations, and all nonhuman life.  But to respect the term climate justice as it is most used in the climate justice movement- and leaving aside a longer conversation about whether the term "justice" is rooted in Abrahamic religious traditions in a way that might influence us to conceive of this situation in a certain way— I want to focus on the first of those chairs.
The legal scholar Maxine Burkett wrote a major piece in the Harvard Civil Rights-Civil Liberties Law Review last year that argued that the climate crisis is "as much a socio-political phenomenon as a geophysical one." She wrote: "In the United States, the field of climate justice has been concerned with the most vulnerable, as it explores the intersection of race, poverty, and climate change. Climate justice takes as a basic premise that the disadvantaged in the United States and the global South stand to suffer the risks of warming more severely than others" 
And of course, they are also the ones who have done the least to design, engage in or benefit from the system that is driving this destruction. We know that one face of climate justice is what we see in the Bahamas and before that in Puerto Rico and in Mozambique and countless other places. . .  we can see with our own eyes that the people who do not have monetary resources or ties to power are not able to flee or rebuild after this kind of devastation. A 2018 report by the World Bank estimated we will have 143 million migrants driven from their homes by climate impacts by the year 2050. One other rollback that this administration is proposing—as important to the notion of climate justice as the others- is to slash and even end the United States acceptance of refugees. The challenge of climate justice is in part to be sure that instead we welcome these migrants and also that we rebuild our own communities with resilience and equity at the forefront. 
But in addition to looking on the level of impact and effect, we must look on the level of cause. To understand our relationship with the sky, we must look at our relationship with the ground- and with each other.
This means to understand the history of white supremacy and colonization that led what led to what womanist theologian Kelly Brown Douglass calls a "theo-ideology" that runs through the Doctrine of Discovery, the concept of Manifest Destiny and into what Douglas terms "Stand-Your-Ground" culture today. It is a theo-ideology that excludes, exploits and objectifies based on an illusion of separation.
We must see that the same activity most responsible for the climate crisis—the burning of fossil fuels- gas, coal and oil—is also responsible for ambient pollution that is harmful to peoples health. Toxic sites are located in communities that have less political power and racism also plays a role- in this country, race is the number one indicator of the placement of a toxic facility. Af-Am children are 10X more likely to die of asthma than Euro-Am children. The World Health Organization estimates that roughly million people die every year globally as a result of air pollution. To challenge of climate justice is to stand with these communities and fight for right relationship on the ground. As Rev Leo Woodberry of Kingdom Living Temple Church in Florence SC recently pointed out, if we had respected all people's right to live free of this kind of poison and "slow violence" assault, we would never have gotten where we are with this planetary emergency. 
The Center for Earth Ethics has partnered with the Poor Peoples Campaign: a national Call for Moral Revival, which was started out of Union Theological Seminary by Rev Dr Liz Theoharis and others at the Kairos Center to coincide with the 50th anniversary of MLK's PPC—and they partnered with Rev William Barber II of North Carolina Moral Mondays movement. King spoke of three interlocking evils of racism, poverty and militarism. The have added ecological devastation as one of these interlocking evils and have a platform that includes a ban on fracking and a just transition to 100 % clean renewable energy. They are committed to leadership from the most impacted communities and so we have been part of forums with testimonials, music, prayer, and calls to action. 
And so my notion of climate justice is informed by having talked with communities in North Carolina and Alabama who have been dealing with diseases and death from the effects of living with coal ash, the toxic byproduct of coal-fired power plants, often just dumped in open pits and left to blow in the air and seep into the groundwater. I have also been to Union Hill Virginia where a historic African American community founded by people who had been enslaved on plantations right there, have been fighting a giant toxic fracked gas compressor station which would bring deafening noise and toxic emissions right to their peaceful rural home. And of course there was Standing Rock, where the Standing Rock Sioux made their prayer camp to oppose the Dakota Access Pipeline, which runs through their sacred ancestral land and threatens their aquifer. In that and so many of these cases, these projects were moved from more affluent, majority white communities after objections.
And when there are losses, when these projects get built anyway, as it happened with Standing Rock, as it seems to happen in so many heartbreaking developments lately, we must remember these other words of Dr. King: "I believe that unarmed truth and unconditional love will have the final word in reality. This is why right, temporarily defeated, is stronger than evil triumphant."
We are a part of something deep and powerful and we are rising together.
And actually, more and more . . . Activism works. Standing together and demanding change and demonstrating another way. We see it around the world- the power of the people in nonviolent movements. The Current Sec of OPEC recently said, at a meeting of oil producers in Vienna Austria— "There is a growing mass mobilization of world opinion… against oil" and this is "perhaps the greatest threat to our industry". To which activists responded- including a tweet by Swedish teenage climate activist Greta Thunberg which linked to the account of his remarks and said:
"Thank you! Our biggest compliment yet!" https://www.afp.com/en/news/826/climate-campaigners-greatest-threat-oil-sector-opec-doc-1i79w11 …
In closing I want to invoke the words on the beautiful flyer for this event—"how can we mobilize action for the climate emergency?" As we have heard, on September 20th, there will be a climate strike led by Greta and other youth activists. I hope to see each of you out there in some way- and lets commit to getting a few more to join us – and let's make sure that they are all registered to vote while we are at it. And let us also fund those communities who are fighting fossil fuel expansion projects in their own communities and stand with them however we can.
The challenge of climate justice is also a great gift. Mother Earth has given us the gift of the laws of nature and the ability to learn them from experience and align with them. It is our gift back to her to show we understand, to simply agree to behave as if we belong here. We have a deep universal spiritual truth to draw from—the essential one-ness of life, whether expressed by Thich Naht Han when he said "we are here to awaken to the illusion of our separateness or King when he wrote "injustice anywhere is a threat to justice everywhere,  or in the beautiful Lakota saying "Mitakuye Oyason; All My Relations" or even in the more mystical moments of Images and Shadows of Divine Things written by Yale's own Jonathan Edwards. We are not separate from each other. There is no such thing as an externality. Climate Justice is self care, it is awakening, it is a reorientation to nature and to the truth of who we are. Thank You