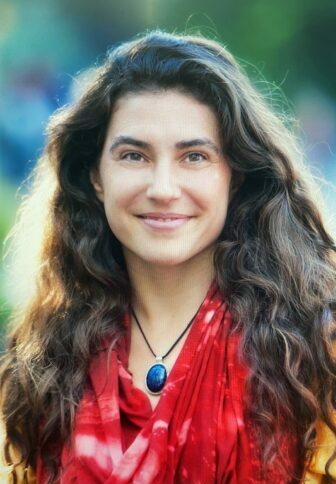 Shannon is a ritualist, dancer, writer, facilitator, traveler, administrator and life long student. Former posts have included serving as the administrative coordinator for the Dairy Center for the Arts in Boulder, Colorado, and as registrar, program coordinator and senior manager at Pacific College of Oriental Medicine (PCOM) in New York for five years. At PCOM, she served on the Student Advisement Committee (SAC), Curriculum Advisement Committee (CAC), as an administrative liaison with the Student Council for community initiatives, as well as, an advisor to AOS, MSAc and MSTOM program students.
She holds a BFA from SUNY Purchase and has taught contemporary dance technique and contemplative movement including authentic movement and contact improvisation. Her work has evolved to include cultural and spiritual studies from around the world whose energetic and archetypal maps have informed perspectives on trauma and the sacred body. Shannon has found a calling working for the water. She has been a contributor to Passionate Waters, participated in Global Water Dances since 2013 and most recently founded Women of the Water, an organization dedicated to supporting the international efforts of those rising up to work for the water giving special attention to women finding their voices in leadership. Since 2018, Shannon has been engaged in field research at sacred sites in Ireland and throughout Europe exploring the emerging study into Re-Indigenization through restoration of ancestral wisdom and the Celtic mythos.
In 2021, Shannon completed a two year women's ministerial program dedicated to developing our relationship with land and sacred sites under Trish Cameron, is a registered celebrant of the Temple of Éiriú – Celtic Tradition and is presently a candidate for solemniser.  She also completed the inaugural Embodied Social Justice program – weaving mindfulness, embodiment and social justice — under the direction of Rev. angel Kyodo williams, Dr. Sará King and Dr. Rae Johnson. These concurrent tracks of study contribute to the "both / and" work of embodied decolonization, re-rooting in authentic ancestral wisdom and "recentering" — the process by which we decentralize the culture of domination and build a new culture of relationships and reciprocity for generations to come.
Shannon has been a registered celebrant with the City of New York since 2008 and has been on the team of the Center for Earth Ethics at Union Theological Seminary since September 2016.
You do a lot of work surrounding water. What draws you to water and why is it so important?
As my Hopi Auntie reminds me again and again, 'We come into this world behind the water. It's good to stay that way'. Nature is an incredible teacher if we only take the time to stop and observe her. Water gives us an example of selfless service, ever fluid, purifying, persistent, persevering. She is beautiful whether she is calm or fierce. We accept her in all her forms. She shows us a reflection of who we are. And most fundamentally, nothing on this great Earth would be alive without her. As a dancer, the qualities of momentum, tidal flow and the concentric circles in air and water deeply influence the way that I move, as well as, the way I perceive life and how to engage dynamic energy within it. As we sing when we gather to honor her: "Born of water, cleansing, powerful, healing, changing – I am."
Why is spirituality so important to the work of ecology? How do they inform one another?
I think that it's one thing to 'think' something is true. It's quite another to know it in your bones. When an active spirituality is present in the work of ecology, you have a vibrant inter-active experience of creation. Your moral compass intuitively and definitively adjusts to include what is now obvious – the reality of the sacredness of all LIFE. Your love of creation, love of the intelligent divinity in the universe that made this great big beautiful mess – that love mandates you must protect all life. That is where humans often get stuck. They want to pick and choose which life to protect. But that mandate really means protecting all of humanity, animals and plant life. It means protecting the trees which are the lungs of the Earth and the soil that nourishes our food. It means protecting the water – the source of all Life.