In a time when many are struggling, and challenged to summon the will to care for those most suffering, a centuries old bond between nations shines a light on human kindness and solidarity. 
Over 1.7 million has been raised so far for the Navajo and Hopi families COVID-19 Relief Fund with thousands of donations over the first few days of May. During the night of May 4th and into the wee hours of the morning hundreds of donations raising hundreds of thousands of dollars poured in with multiple donations per minute. Along with the financial support came hundreds of messages of solidarity remembering the kindness shown to the Irish people by the Choctaw who sent $170 during the Irish Famine in 1847, the equivalent of thousands of dollars, soon after they had gone through their own Trail of Tears. 
**UPDATE: as of 2 pm EST May 6th, the total raised is over 2.6 million dollars.  And the relief fund has expanded it's goal to 3 million dollars.
**UPDATE: as of 1 pm EST May 11th, the total raised is over 3.5 million dollars.  And the relief fund has expanded it's goal to 5 million dollars.
This story is being tracked by Naomi O'Leary, Europe Correspondent with the @IrishTimes.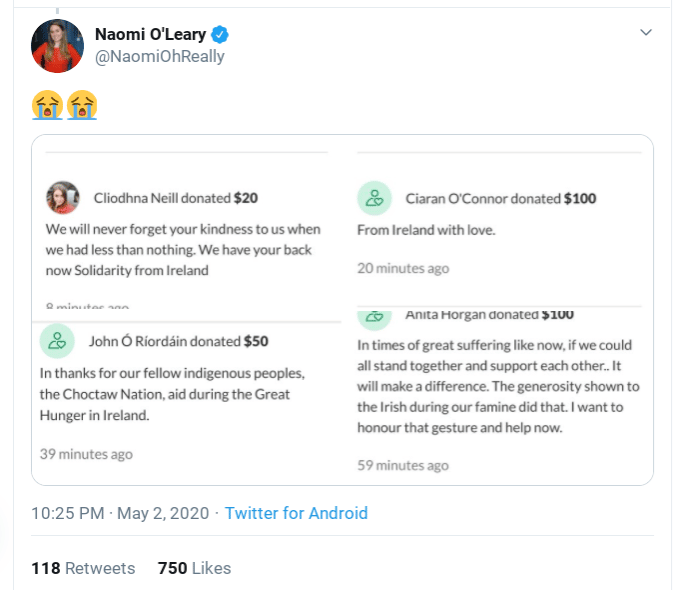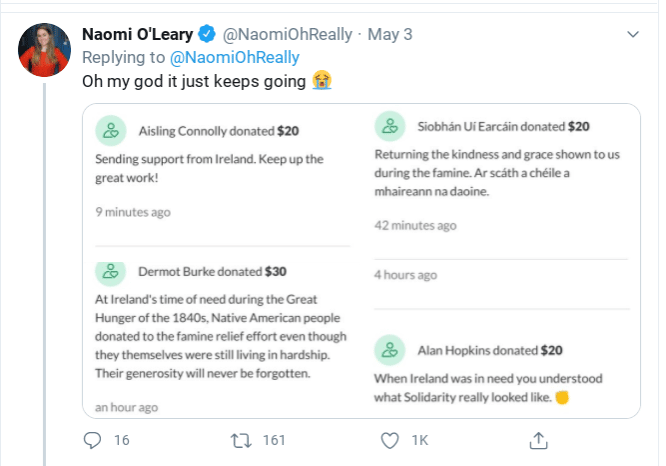 The exchange between the Choctaw and Irish during the Great Famine is memorialized by the 'Kindred Spirits' memorial in Cork and in the etchings on the NYC Hunger Memorial.
Link to the thread on twitter: https://twitter.com/mariafarrell/status/1257381654873673731?s=20
Visit the Go Fund Me page to donate and to read the responses from the Irish offering up their thanks for the kindness of Native American ancestors.