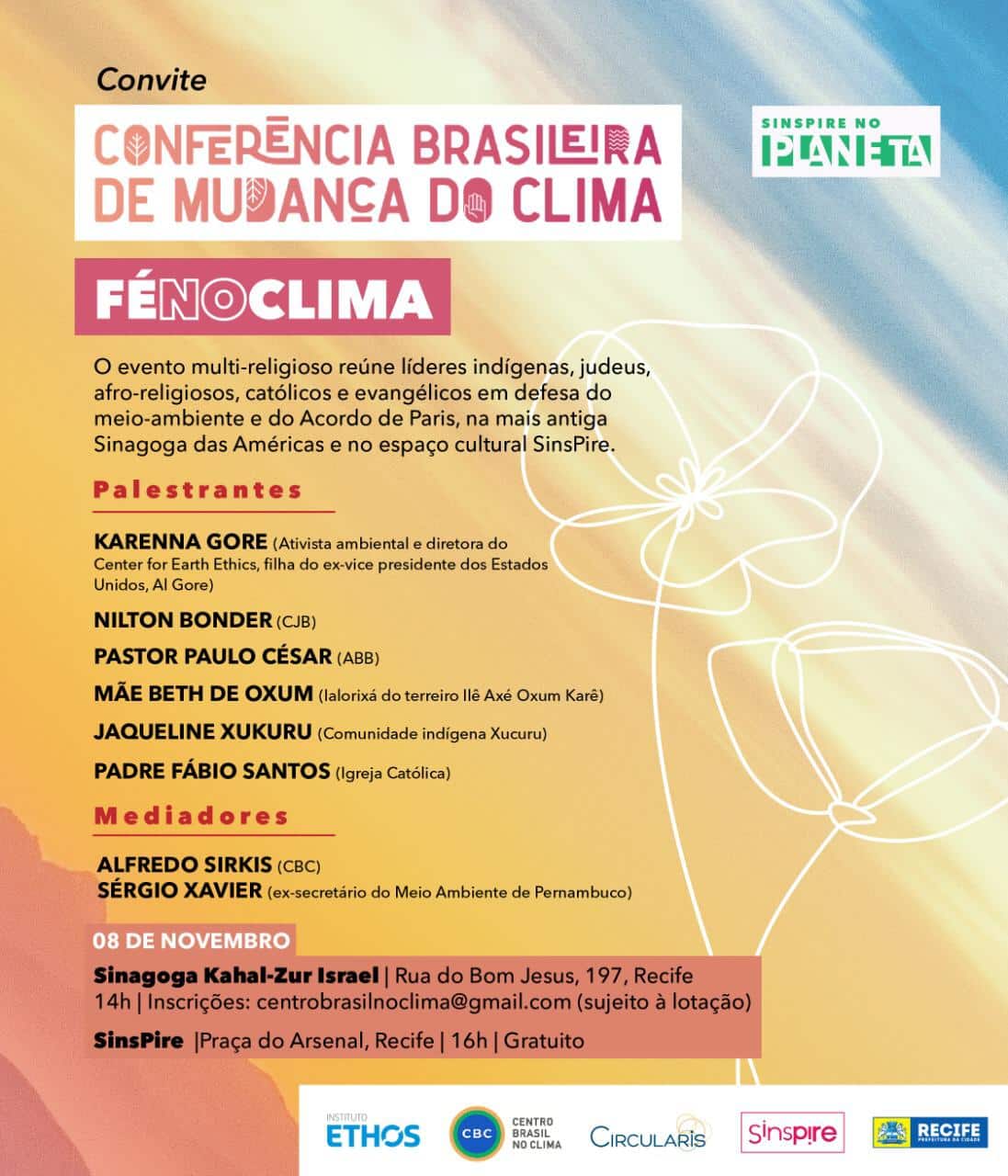 Karenna Gore, Director of Center for Earth Ethics, will join Catholic, Evangelical, Jewish, Afro-Brazilian and Indigenous Leaders to Host a Multi-Religious Event for Climate Protection at the Americas' Oldest Synagogue, Kahal Zur Israel, in Recife, Brazil on Friday, November 8, at 2:30 pm, on Bom Jesus street, near Marco Zero, in the historic center of Recife.
The event will take place in the context of the Brazilian Climate Change Conference, to be held in Recife, November 6-8, preparatory for the COP 25 climate conference, which will now be held in Madrid, from 2nd  to the 13th of December.
"Faith in the Climate" will feature Rabbi Nilton Bonder, who graduated from NYC's Jewish Theological Seminary (JTS); Father Fábio Santos, coordinator of the Commission for Ecumenism of the Catholic Church of Pernambuco; Pastor Paulo César Pereira, President of the Alliance of Baptist Churches; Mother Beth de Oxum, Afro-Brazilian; and a representative of the indigenous nation of the Xukuru. 
The interfaith ceremony will be followed by debate with its protagonists at the neighboring SinsPire cultural center on Arsenal Square at 4 pm.
For the event in the synagogue, due to limited seats, please RSVP with full name and institution to [email protected] and wait for confirmation. At SinsPire, the debate is open to the public.
The event is a co-hosting of Centro Brasil no Cima (CBC), the Institute for Religious Studies (ISER), the Faith in Climate movement and the Climate and Society Institute (ICS) with the support of the Israelite Federation of Pernambuco (FIPE), chaired by Sônia Sette.
For more information:  [email protected], [email protected]
***