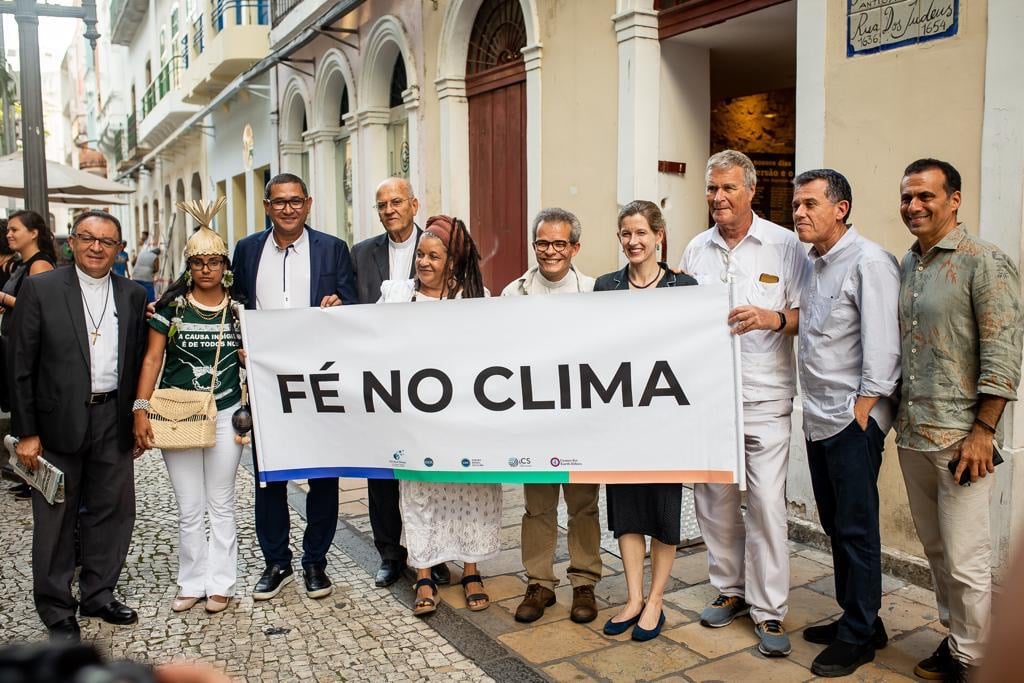 Dear Friends,
In this week of Giving Thanks we invite you to join the Center for Earth Ethics in our aspirations and our successes towards a more just world. CEE Director Karenna Gore shares her personal experiences participating in the "Faith in Climate" interfaith event and youth side events of the Brazilian Climate Conference. We are also excited to share about our new affiliations with Columbia's Earth Institute and consultative status through ECOSOC. There is something that happens in the work of Movement Building, a kind of alchemy that amplifies the work we do together. We hope this #GivingTuesday you will support us in that endeavor. As the legendary movement-builder and author of Pedagogy of the Oppressed Paolo Friere, also from Recife wrote: "It is necessary that the weakness of the powerless is transformed into a force capable of announcing justice."
The Team at the Center for Earth Ethics
---
FIREDRILL FRIDAYS SNAPSHOT! 
CEE's Catherine Flowers joined the 6th week of 
#FireDrillFriday
 marches for climate in Washington DC spearheaded by Actor and Activist, Jane Fonda. Also marching were Osprey Orielle Lake, Director of 
WECAN
 (Women's Environmental and Climate Action Network) and Kari Ames and Adrien Nichol Lee, 
Tlingit delegation visiting DC
advocating for the protection of nine million acres of Alaska's rainforest.

---
Original Caretakers Update
Standing for the Amazon and Protecting Forests Worldwide:
  
Addressing Inter-Generational Trauma
Brings About Both Healing and Policy Change

In a multi-year relationship, CEE's Original Caretakers Initiative worked with community members in St. Petersburg, FL. This year Mindahi Bastida joined them to celebrate Indigenous People's Day with an OPEN conversation about Indigenous People's rights, the consequences of the Doctrine of Discovery, original caretaker's wisdom, history & connection to the land.
---
EJ&CE Update
Closing the Water Gap: Spotlight on Senior Fellow
Catherine Coleman Flowers
Access to clean water continues to be a top priority in human rights and environmental justice advocacy. Catherine Flowers is partnering locally and globally to bring about the awareness for the systemic changes we need.

This fall, Catherine launched CREEJ: the Center for Rural Enterprise and Environmental Justice whose mission is to reduce health and economic disparities and improve access to clean air, water, and soil in marginalized rural communities. CREEJ does this by influencing policy, inspiring innovation, catalyzing relevant research, and amplifying the voices of community leaders, all within the context of a changing climate.
In a November 2019 Op-Ed in the Montgomery Advertiser, Catherine and George McGraw wrote about the recent report released by DIGDEEP and the US Water Alliance on the emerging water crisis. Researchers found "there are at least two million Americans without hot and cold running water, a tap, shower, a working toilet, or basic wastewater service in their homes."  Details of the report and what organizations like CREEJ are doing across the country, can be found here at Closing the Gap.
---
Sustainability & Global Affairs Update
Center for Earth Ethics joins UN Consultative body via Union Theological Seminary and ECOSOC
---
CEE adds Earth Ethics lens to Advanced multi-disciplinary conversation on Global Sustainability at Columbia University's Earth Institute
---


 
---